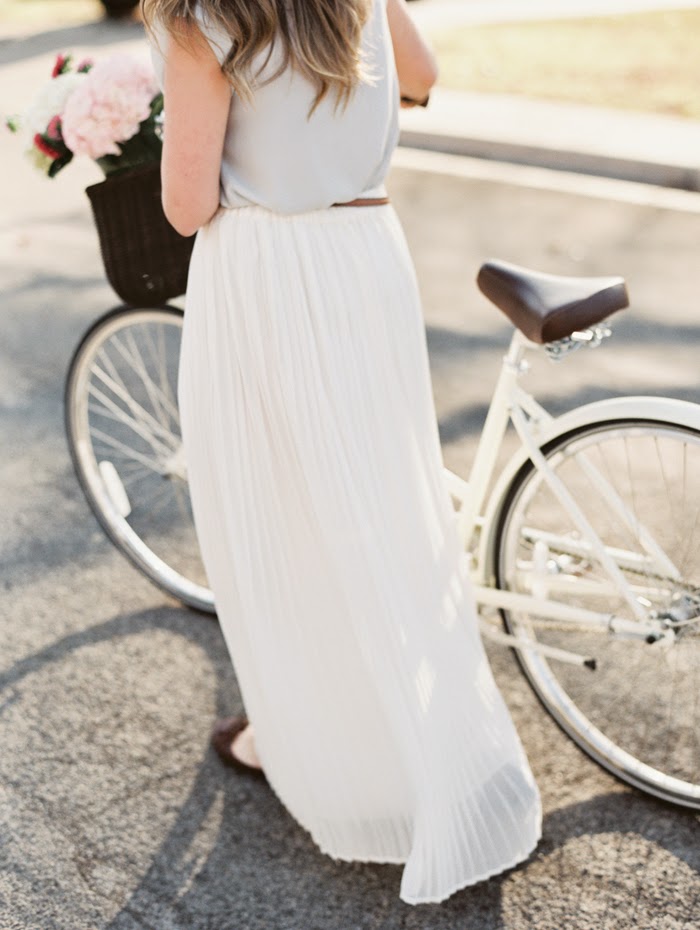 Photo of Me by Jen Dillender
Let's pretend I'm letting out a huge breath of air right where this sentence starts and ends.
I have started to write about ten new posts over the past month here. I'll begin writing, erase, and close out. Then I'll repeat this process over and over again. I don't know if it's because I've been away from this space for so long that it leaves me feeling itchy and awkward when trying to figure out where or how I'm going to pick up my slack. It's like there is this massive black hole lingering over this blog that I have failed to close up because there is too much that's gone on for so long that I feel overwhelmed to even go back and address the places I've grown and moved on from already. I'll be the first to admit that I've been hard on myself. With anything and everything I do. This whole "inconsistent" thing I've been rockin' hasn't been on purpose, and to be honest, it's driving me balls to the wall crazy.
I got back from a trip to NYC with Drew on January 2nd, and when we got home, we kept true to our new year resolution meeting tradition where we huddle together at our kitchen table and write out our personal yearly goals, as well as our yearly goals we will work on together as a couple. However, I never posted them here that next day. I mean, I could have. I planned on it. I had no reason not to do it. But I didn't. The pressure to join in along with the rest of this community like I do every year was knocking at my door…but I never answered. I just stared at that door and let it knock. It then occurred to me after a lot of thinking and seeing others post their resolutions and goals that I wasn't ready for 2015. But why?
It's because I was still coming down from an incredible, yet extremely exhausting 2014. I felt pressure to feel like I should be joining in on all the "This is my year! Let's rock this 2015! I'm making things happen TODAY!" attitudes that come in a huge tsunami wave every January 1st. But instead, I sat on my couch staring at the ceiling fan to see how many blades I could count with my eye balls one by one before they couldn't keep up anymore and the fan became a blur again. I was tired. Just hands down, exhausted from head to toe. The productive switch in my brain was off. I sat in the center of a house that needed to be addressed, clutter hidden in every closet, and an unorganized mind. I know it was the Lord reminding me that I was feeling "off" for a reason and that it was time that I listened. I decided to stop being stubborn, and CHOSE to slow down so I could maybe, really, really listen to my thoughts without anxiety feeding them for once.
Around that time, something I've always wanted and something I've worked towards happened. In the three years of wedding photography I have been blessed with...I sat there for the first time, EVER, not having a single wedding to edit, or a single client waiting for their photos. I had been riding on that anxiety every single day for THREE YEARS straight, and when I got to that day where I marked the big "X" in the box that said "POST OFFICE DELIVERED" for my last client of 2014…I simply didn't know what to do with myself. It was a foreign feeling…freedom from the never-ending guilt and pressure I put on shoulders day after day. I finally, for the FIRST TIME, could relax a little, and sleep a little tighter…and it was freaking WEIRD let me tell ya! It took me a week to really realize THIS was the time that I could finally work on all those behind the scenes things in my business that I needed to address, BADLY. I imagined this massive dance party where confetti would come from my ceiling and Beyonce' would pop out to give me a high five and dance with me all over my house when that day came. Sadly, my imagination gets the best of me (always) lol but it was a huge weight that lifted off of me. It oddly enough left me feeling restless, fidgety, confused and even more anxious about addressing all the "behind the scenes" to dos that have been on the back burner for so long. You know...Those IMPORTANT things that help run a successful, SMOOTH business…yes. THAT! The time was finally heeeeeah! It was time to get an improved system in place.
Instead of focusing on goals, I took the month of January to NOT add to my list. I simply wanted to focus on simplifying my list…for once in my life. My weekends were booked with birthday celebrations, family trips, friends came to visit, personal things, and some quality time with my husband that I see less than 1/3 a year. I used this time to paint my office walls from gray to white. I reorganized my office…twice. I cleaned out my inbox, sorted client folders, tied up loose ends, I breathed more, I sat in silence more than ever, I answered e-mails, I updated my pricing and updated my PDF, I started researching new e-mail servers to help with the junk mail problem I have had all year, I traveled home to visit my family just because I finally could, I was able to be there for a family member in need, I worked on my website, I selected a new album company, I cleaned out my boxes in my closet full of receipts, I went to the eye Dr. that I've been needing to do for a long time, and I made an appointment to get my cameras cleaned. I got SO MUCH DONE that had been weighing on my shoulders for SO long. And because I'll keep it real, I STILL haven't got it all done. However, I am sitting here today feeling rested, motivated, and refocused more so than EVER…and in a much better place than I was on January 1st. My business from the inside out looks brighter and happier than ever, and so is my heart! This month may have flown by and felt like two weeks instead of four... but I'm so very thankful for every minute of it.
2015 has already shaped up to be an exciting, scary, and wild adventure. God knew what He was doing when He told me to slow my roll this month and I am so thankful I listened. He's been moving mountains in my life lately and can't thank Him enough for the grace he has shown me. Now that February is here…I'll be the first to admit that I have sweaty palms. This month will put the big mark on a HUGE personal goal/passion that I'm so freaking nervous to share with all of you. But I'm letting Him lead the way every single day!

February is going to be FUN y'all! I'll be back here tomorrow to share my goals. I'm excited!!! :)