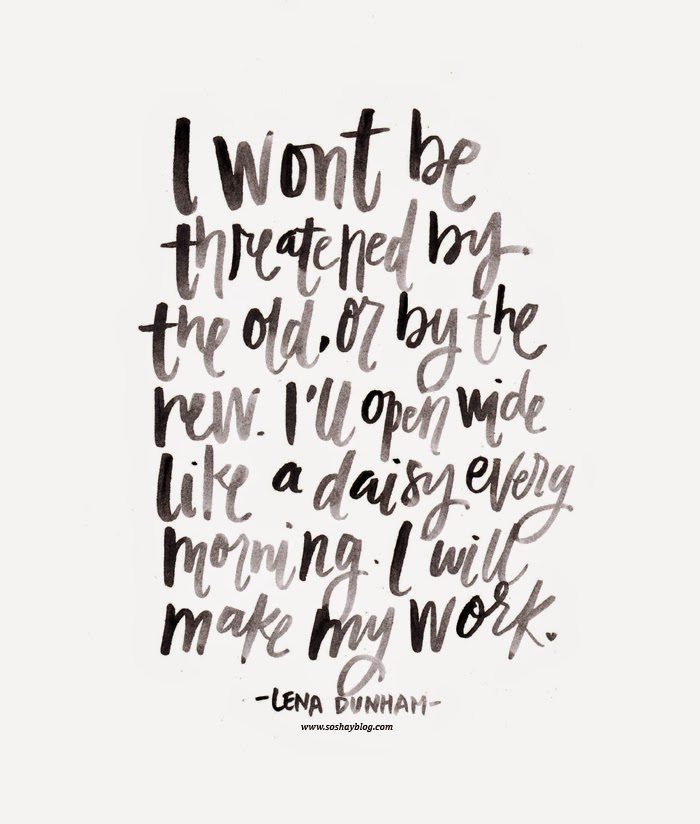 I am really proud of myself. Don't laugh. To most, this is not a big accomplishment, much less, any accomplishment. But I am one chapter away from finishing a book and that is the BEST feeling ever for this gal. Eye rolling is allowed. I know. But, it's either a hobby or it's not. I've never been much of a leisurely reader. I mean, not to
bragggg
, but I WAS in accelerated reading back in the first grade (bahahaha, so lame) ;) and I can read really fast. Drew doesn't understand it, but we will both be reading an article on my phone, and I'll scroll down to the next paragraph and he is always like, "WAIT! HOLD UP! I'm not done! HOW DID YOU ALREADY READ ALL THAT!?" It's either that or he's a slow reader, and I'd like to give him the benefit of the doubt. :) But, for some reason I've never really made the time to read, at least for fun anyway. A friend recommended "Not That Kind of Girl" by Lena Dunham to me when I told her I was wanting to read more for a million reasons I won't list out and bore you with here. I was hesitant at first, but I started to see it pop up in my instagram feed more and more, so I thought, "WHY NOT!?"
It's been a fun read, and a pleasant way to end my busy days. Even though I'm so different than this woman, her honesty, her wit and her thought process cracks me up. But I can still relate to her in a lot of ways. For one, I appreciate how random yet sweet, and deep her thoughts are, which is really similar to the way my brain works. Underneath her wit, her heart is somehow effortlessly hidden but also pouring out of these pages. Her book is blunt, and a
little
LOT-
ttle on the vulgar side, but it is real as real gets and I found myself laughing out loud a few times. We'd be friends. I know it. And I'd be cool with that... because well, everyone needs this friend in their life...the kind that's "Not That Kind of Girl." Book title is on point chy'all.
Last night, while reading her hilarity before bed like a BOSS, I came across this paragraph and it really stuck with me. I re-read it and immediately bent the corner at the top of the page:
"And I decided then that I will never be jealous. I will never be vengeful. I won't be threatened by the old or by the new. I'll open wide like a daisy every morning. I will make my work."
November has been a productive month. Almost a blur really. I'm working away over here like a monkey with really bad hair and I've been little more quiet on social media than usual (friends keep pointing this out to me so I thought I'd address it). It's not because I don't want to post, but I have been trying to get ISH DONE SON! I'm tired. My inbox is messy and full, by the beautiful Grace of our Lord. My flame is flickering and burning fast as it always does at the end of the year, but I will say my heart is so full and oddly, really, really content right now. It's all good yaknowwhatimeanvern. I have a sticky note near my computer that says: "Clear List = Clear head & heart!" I'm so ready to be in this place. It's so close I can feel it. That light at the end of the tunnel I was looking for last month is finally peeking it's sexy self in. *Whistle noise goes here* :) However, this whole drinking caffeine like it's water, eating the scraps in my pantry because going to the grocery store takes too much time right now, which then ends with me staring at an empty fridge that's decorated with an empty pickle jar and leftovers from two weeks ago, and then I get those thoughts on a daily basis such as, "Did I brush my teeth today?" which is quickly then followed up with hand to mouth, exhaling, and then heading downstairs to find the toothpaste. I DID take the trash out this week, but I'd be lying if I told you I've brought the trashcan back to the side of the house. Yep. Still on the street. (Sorry neighbors, I'll make sure I do that today mk!) I know I'm not the only photographer in this boat. It's real a pretty scene over here I tell ya! ;)
We finished out our wedding season and had a really great Thanksgiving with our families. I'm excited to mark things off the list and to see it get smaller and smaller, rather than mark one off, add three. Repeat. December is being devoted to knocking things out one at a time, tying up the loose ends and then will come up for some air so I can enjoy the holidays! :) THAT AND MAKE A CRAP TON OF COOKIES AND EAT THEM ALL WITH NO REGRETS! That's what I'm talkin' bout Willis!
Drew has been traveling and working A LOT this month, so I'm missing him like crazy. Add that scenario with deer season and yeah... it's safe to say, it's been stressfully quiet around here. But the bright side is that he's a baller shot caller and the hardest worker I know. I'm so proud of him. I am trying to think of something sweet to do for him to thank him for all he does for his little family of 4! He's just my hero. I am so ready for him to come home. I'm gonna snuggle that boy so hard!
Alrighty then.
Let's do this.
November Goals
Finish Editing EVERY
THING in my editing que... Fingers crossed! -
Getting closer!
Photograph 5 sessions
Photograph our last 2 weddings of 2014
Go on a HOT date with Drew
-
It was a small date, but it was great!
Declutter Home - Clean out CLOSET
Celebrate Thanksgiving with Family / WORK FREE
New Pricing Guide
-
It's done and ready to werk it!
Blog More Sessions/Work/Weddings -
Ehhh. I blogged one session. That's pretty good for me these days. Haha.
Make First Step Toward a HUGE Passion Project of Mine
-
Y'ALL. My heart.
Tidy Up My Home/Office
Decorate fo
r Christmas -
Sadly, we haven't finished. So I'm crossing half of it off.
December Goals
Completely finish all my editing - and send all sessions off to my amazing clients - The end is near! Whoohoo!
Get a couples massage with Drew because I'm the best boss ever, duh.
Treat myself to a manicure and pedicure because I deserve it. :) #treatyoself
Get inbox to zero - have a clean slate before Christmas
Complete all watercolor orders
Take a two week vacation to relax, rejuvenate, rest, and prep for 2015 ... Y'all. I need this so bad. I can't even begin to tell ya!
Send out Prep Packets I made to 2015 clients
Take a dream day with Drew to go over 2015 goals
Finalize album company for 2015
Bake cookies because...cookies.
Christmas date with my hot pants
Christmas Party with my photographer love bugs who have become the best of friends
Do something random... :)
Celebrate New Years Eve in New YORK CITYYYYYYY! I CAN'T WAIT!
Blog my 2015 favorites since I only have blogged ONE wedding this past year...WOW. I need to really work on this.
Order personal prints for my home
Finish all Christmas shopping before December 15th
Go look at Christmas lights
Continue working on my passion project - Step 2!
Pay it forward in a big way
Eat more cookies.
Watch the VS Fashion Show and NOT FEEL BAD ABOUT MY THIGHS or BUM DIMPLES. I've worked hard for those. ;)
Playlist?
Right heahhhh.
Merry Christmas Muffin Heads! I love you, a lot, a lot.