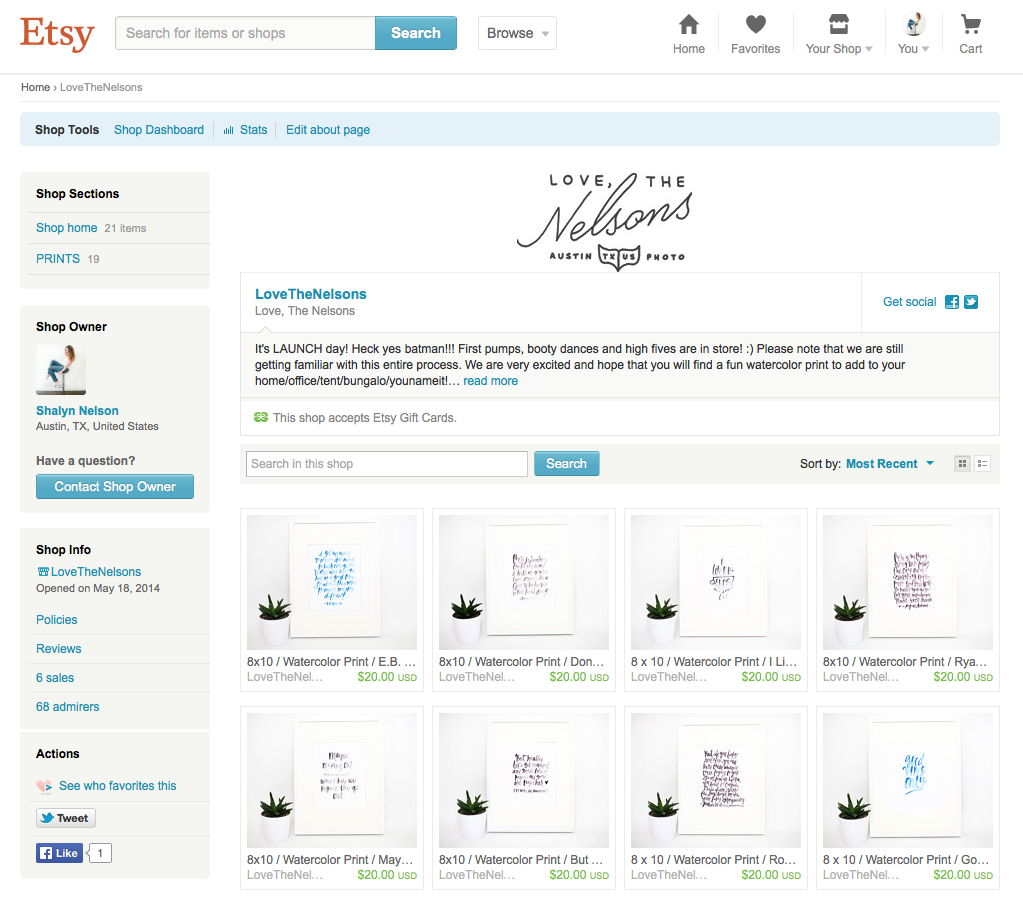 Welp!
The shop
is live. (FI-FI-FINALLY!)
I can't believe I just typed that. I never in a million years thought I would have an Etsy shop. I still can't believe so many sweet people love these things. However, I am really, really, over the moon thankful. It means the world to this heart of mine.
Real talk though ... I'm super nervous and a little anxious annnnnnd a little scared right now... but it's UP y'all! :)
Fist pumps, booty dances, and high fives!
Please know that we are still getting familiar with the entire process of having a shop. We are extremely excited and can only hope that you will find a fun watercolor print to add to your home! :)
We will be adding more prints to the shop very soon. If there is a print you might have seen me post on Instagram (@shalynnelson #ltnshop) that isn't available to order, PLEASE do not worry. There is a really, really good chance we just haven't received our inventory for those orders just yet. Once we have those in, they will be on the site for you to purchase. As my Mom always said...Baby steps! :)
CUSTOM ORDER INQUIRIES...
Unfortunately, at this time, we will not be offering custom orders. I KNOW. I'm bummed about it too. However, please check back in the coming months because this might change. Due to being a full-time photographer and smack dab in the middle of our busy season, it will not allow the extra time to whip up these orders. Once things slow down over here, we can hopefully, fingers crossed, start taking them on again. We super appreciate your understanding. We are human, not robots! :)
SIZES OF PRINTS...
For the time being, we are only offering 8x10 prints. This will eventually change, but we want to see what our best sellers are first before we start taking on different sizes of our prints.
All orders will be sent to you between 7 and 14 days.
If you have any questions about our shop, please don't hesitate to e-mail us at
[email protected]
or leave a comment below and we will do our best to get back to you as soon as possible.
Thank y'all so much for all your love and support as we enter this side journey of AWESOMENESS. We can't even put into words how overwhelmed we are with gratitude.
Please be sure to head on over to instagram to see how you can win a free print too. Holla FO A DOLLA!
Peace and Hair Grease!
Oh, and
HAPPY SHOPPING
! :P