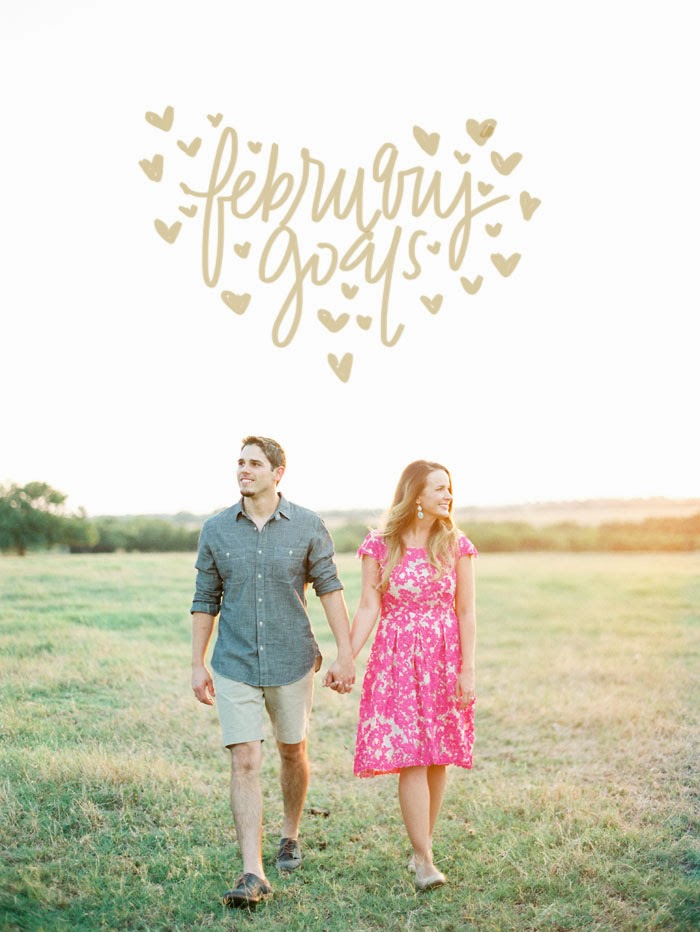 Happy Love Month Y'all! :) February is probably one of my most favorite times of the year! :) LOVE is in the air and there couldn't be anything better. FOR real. All the cheesiness, the corniness, the meaning, the explosion of flowers and teddy bears hugging hearts in grocery stores, the PDA and the puffy hearts in the air makes me one happy lady! :) I'll be that girl you're rolling your eyes at and I'm A-OK with that! It just comes with the territory of being awesome! ;) I kid.
Also, I do realize that I'm a few days late posting my goals, but that doesn't mean that I haven't forgot! :) It's been a doozy of a week with deadlines, unexpected events, etc. so I've been keeping my head down trying to knock some things out around this office of mine. Obviously blogging has been taking the backseat for quite sometime, but hopefully that will be changing soon. I have a lot of really cool things up my sleeve so don't leave me now! I assure you I am about to get my blogging act together! :) :) :)
As for January…It was
meh
. It was honestly just a weird thirty-one days if I were to be honest. It was full of GOOD-productive days and awesome birthday celebrations but I also had a few days where the whole distance thing with Drew REALLY got me down, and I found myself on my knees praying a whole lot. I really, really miss him and I feel alone A LOT. Working alone, living alone, well, it's not exactly awesome lol. Especially for a 'people person' like myself. I just keep hoping the Lord will provide me more strength while we adjust to this new lifestyle and until then, will continue to PRAY like crazy that I can get through this with Grace. EVEN my animals are looking at me like I'm crazy. It's probably because of the conversations I have with them…er, their voices. HAHA! SEE WHAT I MEAN!? :)
I also realize that I still haven't introduced Hattie on the blog. I know! I know! It's not because I haven't thought about it, but I've just had a lot going on behind the scenes over here; more than I can really explain, and I really WILL make a little post on Miss Hattie really soon. I just have a few important things I need to knock out on my list over here first.
Let's see how I did with my January goals. I wish I could say I knocked it out of the park, but I didn't. I blame it on 'The New Year Funk' - You know what I'm talking about right? A lot of overwhelming ideas, thoughts, etc. that get in the way of actually getting things done. #mylife I think February is where it's at though. I got this.
January Goals
Second shoot with my muffin
Jessica
Celebrate Drew's Mom's (my MIL's) birthday
Celebrate Andrew and his twin sister, Ashley's birthday
Celebrate my birthday ( I'm ANCIENT!)
Attend my cousins wedding as a GUEST :)
Three photo sessions
Continue to simplify and organize my house
Get my house ready to photograph for a HOUSE TOUR (Can't wait!)
Work on Love, The Nelsons website
Plan launch party/announce launch date
Paint doors in house
Yoga class once a week (twice if I'm feelin' funky fresh!)
Drink more water for the sake of my poor little kidneys
Start reducing the amount of sugar intake (My skin is TERRIBLE!)
Floss every single day
Finish all my edits and be caught up FULLY so I can have a dance party with myself (Allllmost there)
February Goals
Photograph 4 sessions
Continue to Work on Website
Be completely done with my editing by mid Feb and spend the rest of the month prepping for my busy spring wedding season (It's gonna be crazy but so much fun!)
Get my hair done (Getting it done ONCE a year is not okay y'all lol)
Go on a super cheesy, super sweet, super GAGtastic Valentine's Day Date with DDHP
Get a massage (Lawd knows my body is excited about this one)
Exercise twice a week (Don't hate, even exercising period is an accomplishment these days! :))
Start my HOUSE TOUR! :)
INTRODUCE HATTIE
Paint doors in house
FINALLY post my Ryan Ray Photos!!! :)
Attend a self defense class
Go visit Amanda to work on GLOW and get a workshop date locked in! :)
Sign up for a film workshop
(I already marked this off the list and I am peeing my pants excited over here!
IS THIS REAL LIFE!?
)
Organize receipts (This makes me nauseas thinking about it lol)
Pay it Forward (This makes me so happy y'all…I literally do this once a month or so, and I smile the whole dang day! DO IT! You will love it. Nothing is better than making someone smile.)
Celebrate my ONE YEAR GOING FULL TIME AS A PHOTOGRAPHER (Parrrrtayyyy!)
Finish my Lara Casey PowerSheets
Have friends over for an editing party (Any takers? ;))
More handwritten notes to friends and family
Figure out our 5 Year Anniversary Trip for March
Find a hip hop dance on YouTube and learn it and then perform it in my living room…by myself because I CAN and I'M AWESOME!
Lock-In Videographer for Branding Video! :)
(DONE, too. See, this is what happens when your goals are posted late! :))
Start Reading The Law of Divine Compensation (Recommended by my DOLL of a friend,
Stephanie)
Love More
Practice Listening More (I love to talk, okay! :))
Breathe More
Pray More
BELIEVE good things are about to happen MORE
Oh, and FLOSS every day. (I hate flossing)
And while I'm at it…make out with my husband MORE. #heckyes
I'm also kind of happy knowing I've already made two steps towards my year long goals: My Vegas Trip with my blogging lady loves that we've been talking about forEVER is finally BOOKED AND I signed up for an incredible film photography workshop that will get my closer to my goal of learning film. Now all I need is a Contax. Contax, I'm coming for you! But if you could miraculously cost a lot less, I'd love you much much more. :) I sure do love you February. You may have gotten off to a pretty rocky start (that's life), but
you will
be a good month. OKAY!? You will. So, get to work. (Yes, this may be a mind over matter thing I need to battle out, but if I speak this into existence, it will happen. I know it! :)
Also, all you prayer warriors…if y'all could say a prayer for one of my dear childhood/lifelong friends and her family, it would mean the world. Her mother (one of my second Moms) passed away suddenly on Sunday and it's been devastating for everyone. The power of prayer is a beautiful gift if we use it, so if you could just keep them close in your thoughts, or even in your prayers this week, I would appreciate it more than you know & I know they would too. <3 nbsp="" p="">
XO!
Photo Cred: The Rad
Ryan Ray