Hi Y'all! :)

Thank you for the super sweet comments from Friday! Also, HELLO to all those new pretty faces over there on the left hand side!!! :) I'm so glad you're here! I'm slowly but surely still responding to e-mails, so if you haven't got one yet, I am working my way to you! :) Let's talk about my weekend shall we? :)

Sometimes you get super lucky with weekends that put your life into perspective once again, and amazing friends that help you do that.

On Friday, my best friend Jenni came to Austin to start training for her new job. This means, my best friend is moving from Houston to Austin and that makes me all kinds of happy! :) I have friends in Austin, but I don't have any old friends in Austin and with her being here, it will just make home feel more like HOME. You know what I mean? :)


We went to dinner on Friday and came home to just hang out. One of our good friends also lives here and is a cop, so when he found out Jenni was in town, he'd thought he'd be funny by knocking on our door like something bad was about to go down. We literally all stopped and got wide eyed when we heard the knock at our door. We answered and our fellow muffinhead of a cop was all smiles. I feel safe knowing he actually patrols my neighborhood. One day Drew and I were driving to the post office and we saw our buddy on the side of the road being a legit cop, cool sunglasses and all. We got a good giggle out of it because we texted him to inform him that we saw him and he said, "DID I LOOK GOOD!?" Haha!
On Saturday, Jenni and Jordan left our house early in the morning to head to Dallas. Drew and I got out of bed, picked up a little, and made ourselves breakfast. Making breakfast with Drew on Saturday mornings is one of my favorite things in the whole world. It literally warms my heart and makes my whole day 100 times better. We made pancakes, and decided to make Piper and Furlee mini "Pomcakes" with the left over batter. They were in HEAVEN I tell ya. Look how happy they were! :)
I edited a little that afternoon, and then had a photo session in Austin with a sweet couple of mine. We had a blast and the lighting was DREAMY. I can't wait to show these to you! :)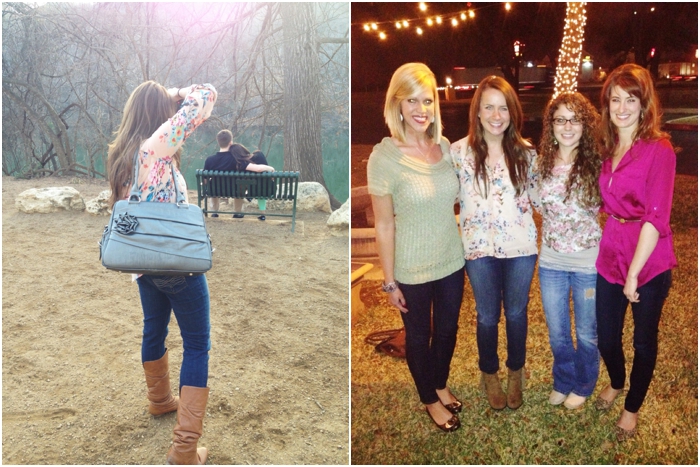 That night, our friend's came in from College Station to stay the night. We went to dinner and came home and played cards. I don't know when the last time I played cards was, but we had a good time! I might have been a party pooper and crawled to bed a little earlier than the rest, but I blame it on the crazy busy week I had. :)
I took Sunday OFF, which was REALLY hard for me to do. When I know I need to get things done, I just want to work until it is, and I allow zero time for rest. BUT, I promised myself I'd do this, and I did. It was AMAZINGGGG times a million wonderfuls! We ordered pizza and then if we could be any healthier, we let our sweet tooth attack get the best of us too. We hopped in the car with the pups, and grabbed ourselves a pint of ice-cream a piece. We didn't share either. #fatties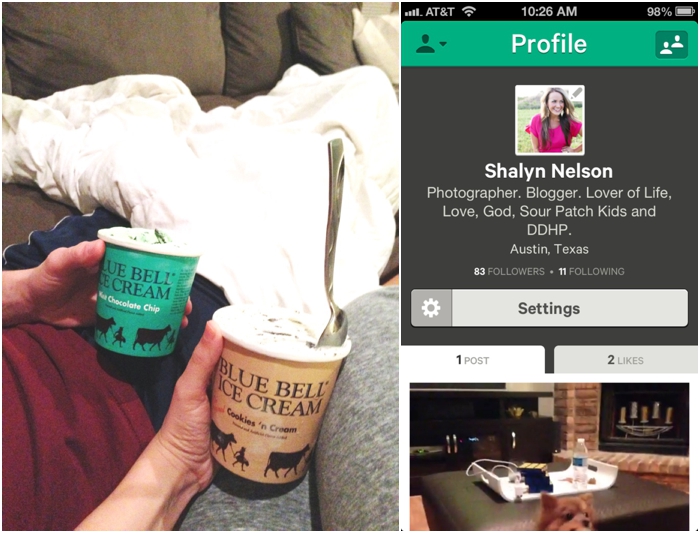 Another fun, yet busy weekend in the books, and I'm ready to tackle my week! How was your weekend? :) Did you do anything fun!?
Also, I joined that Vine app like everyone else and their Mom and Uncles and Cousins late last night. I think I like it, but I'll be honest, I'm not sure if I can keep up with that, instagram, facebook, twitter, and blogging! YIKES! Thanks Vine for adding to our social media addictions! I appreciate it! :|
That's all for now. I'm busy working on some exciting ventures and hoping to share more soon. Until then...
Peace and hair grease! :)