These were my over-committed and super unrealistic thoughts on the day we signed the dotted line and bought our new home.
I took off of work early, met Drew at the real estate office, and on our way in, we passed a couple in the hallway. I knew they were the previous owners...you could just tell. They had just signed over their home, to two young newlyweds ready to move into our very first home. Adulthood was waiting for us just past that door. I kindly stopped the middle-aged, sweaty palmed, nervous looking couple and said, "Oh you must be Mr. and Mrs. Jones (changed the last name for privacy reasons). I reached out for hugs and they hesitantly gave me a hug back. " Oh, Hello." I stepped back and with all the excitement in the world I said, "Ahhh! We are so so so excited!!! Thank you SO much! We can't wait to move in! Was the home good to you!?" "..."Ah, yes, yes. Congratulations!" They quickly rushed out the door and didn't look back.
I replay this moment in my head almost every day now thinking, "How could they look at me in the eye...and say congratulations? I wish they would have just said, "Muhahahahaw, GOOD LUCK! PEACE OUT SUCKAAAAS! It's ALL YOURS!"
Now when I look back, I can't even imagine the feeling that middle aged couple had when they saw us in the hallway that day. I can only imagine the excitement, the guilt? and the incredible RELIEF it was to sign over OUR home to us that day. They probably wanted to get out of that building as fast as they could. I can't say I blame them.
We were both celebrating that rainy, dreary day...but for two completely different reasons.
We quickly rushed down to the room at the end of the hallway where the blunt and gigantic stack of papers awaited us. We signed them all, and I took pictures on my phone like a crazy woman smiling from ear to ear. Then before we knew it, the real estate agent said those four words that would haunt us in a few months:
"Congratulations! It's ALL yours!" as she slid the keys to our home in front of us.
I remember looking at Drew with tears in my eyes, and admiring my husband's proud face. Drew and I hugged, laughed, and danced our way to our home. I turned up the radio and danced like a fool and kept saying, "WE OWN A HOME BABE! WE OWN A HOME!!!!"
We pulled up to our house.
We hopped out of the truck, and Drew said, "Alright babe! I guess this is what people who just bought a home do..." and he picked me up, and carried me through the threshold. He sat me down in the middle of our empty home full of possibilities with a smile on his face. We hugged and just stared at each other like a deer in headlights thinking "OMGGGG what do we do now!? AHHH! Let's run through the house!" And that we did. Like two crazy newlyweds in love. I will never forget this for as long as I live.
We went to pick up our dogs, and then to Olive Garden to grab our favorite food to go, along with our favorite dessert (Chocolate Tie Mousse Cake), stopped at our new grocery store and grabbed a bottle of wine and rushed back to our house. By this time, it was dark and we had no plans on leaving anytime soon. We took my childhood blanket that I packed up that morning, and had ourselves our very first dinner in the middle of our empty living room. We made a game plan and made a pact right then and there. We were going to give it our all and do it all ourselves. This house was going to get some TLC.
We both used a vacation day and took off of work that Friday. We woke up early and were at Sears before it even opened. We were ready to dive in to beautifying OUR home.
Here we were ready to make our first home purchase (rakes, trimmers, and some saw for cutting bushes lol). You know, real man tools. We were ready for the blisters, sweat, blood, and tears that awaited us.
We worked all weekend long, from the early morning into late at night. That weekend we raked close to 40 bags of leaves and pulled up all the bushes in our front yard. This is no exaggeration either. See?
We cut trees, we made endless amounts of trips to Home Depot and Lowes. Drew celebrated his first moment on a roof. I celebrated getting my hands dirty and working like a boss in the yard. Sadly, there were no milkshakes involved, and no boys came either...what's up with that?
We also tackled the upstairs bathroom. Y'all...it looked like a smurf family exploded inside. The toilet was wood and obviously had been pee'd on A LOT...because there was a whole lotta proof. We took that room by the horns and did our best to cover up the smurfsplosion.
The backyard: Again, a smurf exploded in the back. Drew built some stairs, and I painted the concrete brown.
After we moved in, our game plan was to start on one room, and then once it was complete, we'd move to the next. We also wanted to leave the expensive things for last, so that way we would have time to save. We both had never done ANY type of renovations, EVER, so we figured we'd start small, with the smaller rooms, also meaning smaller projects. We saved up, purchased, saved up, purchased, and on and on. Little by little we started improving our home. After the yard was picked up, and the smurf bathroom was improved (but not finished), we decided to start on the entry way. Why?
Because it looked like this.
Blue/Gray tile that was greeted with berber carpet. Not exactly gorgeous or welcoming for visitors.
Drew broke up the tile, and layed down some new tile that we found for reallllly cheap at Habitat for Humanity.
Don't worry, we finished the trim but I never got a picture of the finished project.
Then we moved to the small bathroom in the hallway downstairs.
We then moved to the laundry room.
We painted our bedroom next. (Before, and After)
Then one day...we were watching TV in the living room when we heard a HUGE BOOOOOOM come from upstairs. It scared the absolute crap out of us both...and when we ran up to see what the heck it was...we saw this:
Termites.
They ate their way through the tile. Unexpected expense. PAIN in the butt. Palm to forehead...WHAT. IN. THE. WORLD. We never saw this coming...that is for sure.
So, we took all the tile down, sprayed and sprayed and bombed the mess out of this bathroom. We patched it up, and Drew retiled our entire shower. I don't have an after photo right now either, but will def. make sure to update this when I do. So, basically, we had to take a few steps backwards and work on the first room we started out with in the beginning.
After this unexpected cost, we had to wait on renovations for awhile. After we saved up a little, I told Drew that if the kitchen looked better, I'd probably cook a lot more... ;)
Obviously that was just my way of trying to get started making progress in the house where we spend the most time... so we decided to nix the idea of new cabinets, and painted them ourselves. We searched Craiglist for appliances, and got our fridge for $600 cheaper than it was in the store, and we found our dishwasher from Habitat for Humanity for half the price as well. We did have to save and splurge for the oven and microwave at Lowes. Obviously, the floors and the countertops have yet to be replaced because they aren't quite in the budget yet. Here is the progress thus far:
Kitchen before: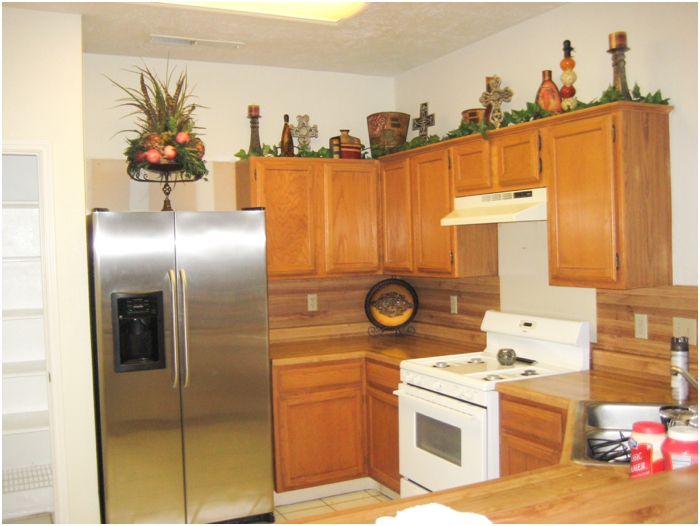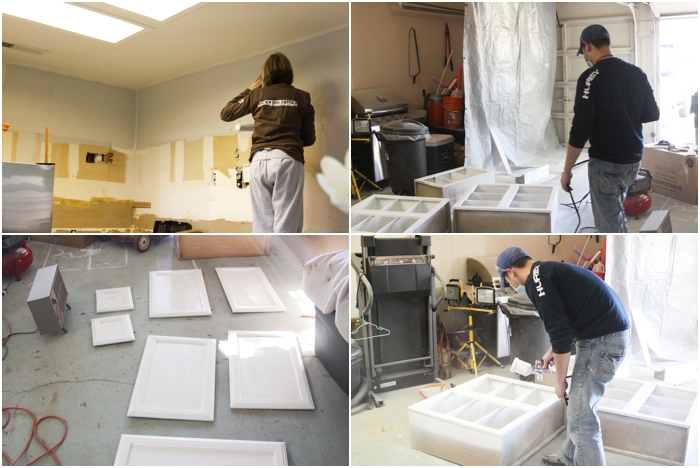 Overtime, and with seasons changing, we added grass to our yard where the bushes we pulled up used to be.
So here we were...thinking "Alright, I guess let's get these floors replaced! That will really pull our home together, don't you think!?" We wanted the hallway, the livingroom, and our bedroom to all match. We savedddd and savedddd and then we finally bought new dark hardwood (laminate) flooring. We got them home, and since Drew had never layed laminate, he started in the hallway. At about the time Drew started to finish the hallway flooring...was when we started noticing some changes in our home, and at a very rapid pace at that.
I started to notice that the bathroom door wouldn't shut.
"Babe...something is wrong here. Why won't this dang door shut!? It's driving me crazy!"
So, Drew shaved the bottom of the door so it wouldn't catch on the floor.
Next thing we know, the door frame was cracking, and had moved so much, our door wouldn't even fit IN the frame to close.
Then one night, we found this little fella in our toilet.
I still look at this photo and can't believe it happened. After this run in... we knew. We KNEW we were about to have to face reality.
Cracks dominated our dry walls. You couldn't look up without wanting to cry. All the trim and baseboards Drew slaved on? They were about an inch or so off the ground.
We were both in denial and ignored it for a couple months because we both knew that the next thing we would be seeing were dollar signs...dollar signs that we didn't have.
We got our house looked at and quoted, and that's when reality came crashing down around us. We put off all of our renovations for about a year. We had no option but to live in a home that was falling apart around us, and also half renovated. We were forced to see the work we had done this far...start to crumble little by little.
I was starting my business during all of this mess...so editing photos became my way to take my mind off of what was happening around us. I wanted to be a photographer, and I just kept that as my therapy. I would close the door and edit away until the wee hours into the night.
However, I have to be real. I worked in this mess for a really long time...ready for it?
See me? Barely? Oh, hey girl hayyy.
Oh, and that desk over there to your right? That's what I worked on...for months and months. FINALLY, I got the room cleaned out and it looked like this:
Isn't she lovellllllyyyyy? ;)
We had laminate floors sitting in the garage ready to be used in the living room, but since we knew that our foundation was going to be worked on at some point, then there was NO reason in laying down a brand new floor that was going to be eventually be pulled up. So...we felt the itch, ripped up the carpet, and got to work. This was the room that had the least amount of damage...and I really craved a workspace that inspired me.
And I know you have all seen the after:
Now it might make sense as to why this space means the world to me.
You see, I think the hardest part of ALL of this was just knowing, and seeing that all of the work that we have poured into this home...well, was a waste in a lot of ways. Knowing the tile and trim Drew had worked so hard on was going to be pulled up in the blink of an eye? Knowing all the time we spent painting our walls were going to be re-painted...all of it...was done to be re-done. The icing on the cake? Finding out that the flooring we bought...got discontinued. It's exhausting thinking about it. The feeling of knowing this made us feel sick. The dollar signs at the end of all of these quotes made us feel hopeless. I did most of the crying, naturally. Men deal with stress much differently. They get quiet. They get quiet for a long time, and then once they hold it in long enough, you see the damage it does to a person and it breaks your heart in a million pieces.
We were in over our heads and the more we thought about it, the more we stressed we became, and the harder it was to be just be happy. It was one thing after another. More cracks. More movement. More headaches.
This is where we finally took this unfortunate situation and decided to face it. We sat down and had a long discussion one night, made another game plan, and that's when this post happened.
No more complaining. No more anger. NO more.
How can we take this and turn it into a positive?
What went wrong? WHAT did we do!? HOW do we fix this?
What can we do to make sure this doesn't happen again?
When we really sat down to think about this situation, all we could do was say:
NEXT TIME...
NEXT TIME we will do this, and this, and this, and this.
NEXT TIME we will know better.
NEXT TIME...well...will there even be a next time?
Drew and I would never, ever, in a million years wish this experience on anyone. This is why I have been wanting to write this post and share with you the things you need to make sure you do when you buy your next home. Obviously, we are not professionals. We are not experts. We are just young, naiive, inexperienced adults who bought their very first home.
Hopefully our advice can help you...atleast I hope and pray it can. I know when and IF we ever get to buy another home, we will do all of these things I am about to list. It's really simple advice, but if you are anything like us and brand-new to a big decision like buying a home...these next things I am about to tell you will help tremendously. Buying a home can be a wonderful, rewarding, and amazing experience. I have NO doubts about that as I have friends and family who have all purchased beautiful, loving, amazing homes. However, not everyone gets so lucky, and not everyone knows what they are doing...*cough*us three years ago*cough*. So, let's get on with it shall we?
Know about the side of town you live on. Is the soil soft? Run. Is your neighborhood safe? Do you like the area you are in? Research everything. Ask people in your city where the good/safe places are to live. If a house is in a part of town you aren't familiar with? Research it. Ask questions. FIND OUT EVERYTHING YOU CAN ABOUT THE CITY YOU LIVE IN. The school district? The crime rates? Are people wanting to move in to your neighborhood or move out? That's a big sign.
If you know of someone who had an amazing experience with buying a home? Ask them who their realtor was. WORD OF MOUTH people. WORD OF MOUTH. Just because their face is on the sign...doesn't mean you should use them. If your realtor seems to be unorganized even in the slightest bit? Find another one. If your realtor is rushing you? They just want the sale people. Make sure your realtor understands your wants, your needs, and is familiar with the neighborhoods you want to live in. It will do WONDERS.
We hired a home inspector. He was a nice guy. We had a nice chat. He came out, inspected the home to his best ability (meaning, he inspected the surface things of our home), and all looked good. This is where you then need to pay the extra cash that might not feel great on your pocket book at the time...but Y'ALL...if we would have had an engineer come out...he would have warned us of the foundation problems that awaited us. The dollar bill signs that were going to bury us. HIRE THEM BOTH. NOT just one or the other. PAY for it. It will save you a headache in the long run, I promise promise promise you.
This is an absolute must. If we would have had our plumbing checked by a plumber...he would have said, "Yes, there are breaks under the home...and you're going to be paying X amount of money here really soon. Right then and there Drew and I would have been able to let go of the house. It wasn't budgeted, and there was NO way we would have bought the house knowing that all of these expensive problems awaited us. *Face palm*
If you're anything like me, and you watch HGTV...you realize how FUN and AWESOME it looks to buy a home. AND in our case, a fixer upper. I mean, HGTV can turn an outdated home into a masterpiece in 45 minutes...surellllly it couldn't be THAT bad...right? Wrong. Rome wasn't built in a day, and those beautiful rooms you have on your Pinterest boards are A LOT OF HARD WORK. You will have to be real with yourselves, your budget, and your timeline. As females, I realize that we like things NOW, but really... we know deep down patience is a virtue.
This is coming to you from the girl who got excited when we found out that our neighborhood didn't have HOA. You mean, we are going to be able to save a couple hundred dollars a year? HECK YES!
Oh...HECK NO.
Our neighbors never mow their yard. One of our neighbors has...wait for it...wait for it...EIGHT jetskis sitting in his drive way. NONE of them work either. If you ever want to sell your home, you're going to wish for that HOA. Nobody wants to live next to the house with the 3 foot of weeds and grass and a driveway full of broke down jet-skis.
HOA is worth it. I promise. I'd pay good money to go back and make this a priority in our house selection process.
I wish more than anything Drew and I would have gone around our neighborhood and asked our neighbors this question:
"SHOULD WE BUY A HOME HERE!?"
After conversations now with our neighbors...they are in the same boat as us and we all can agree that we are up poop creek without a paddle.
Too nervous to knock on a strangers door? I feel ya...I do. However, I guarantee an awkward 2 minute conversation with a stranger could have changed everything. Ask questions. Ask away!
If someone were to knock on my door today and ask me that, I'd tell them to run far far away! :)
I hope this helps friends. Like I said, it's common sense...but we had NO idea. We were just excited to find a fixer-upper that met our price point and had a nice layout. We thought we were making an awesome decision, and honestly it could have been a good one...but we didn't do any of the above things we listed...and that would have made ALL the difference in the world.
Lesson learned.
In light of all of this, we are very thankful for a home, and are so so so excited to be moving back in to our home again. She's starting to look like a home again, and that is the best feeling. She's getting fixed, and I know if anyone were to ever buy our home, I'd be confident to sign her over because we got all the hard work done and out of the way. There is still A LOT of work in our future...and you can bet that I'll be documenting our journey the entire way.
P.s.) Thank you for reading this post. I know it was a long one...but I sure do hope someone can benefit from it. XO!