This birthday party was a complete little labor of love. I knew I wanted to do something playful and fun, and of course, punny! The idea started when I was chatting with a group of my girlfriends about Beau's Birthday, when one of my rap loving friends mentioned that I had to tie in Lil' Wayne somehow (she's a huge fan). Immediately, I thought, "OKAY! What aboutttt Lil' Beau!?" Once that was decided, the ideas just started flowing.
Step One:
Invitations! I wanted the experience to be something straight up ridiculous, because and I wanted my friends and family to have a good laugh when they opened their invite. After a few hours on Pinterest, and scoping the web, I didn't really see anything that caught my eye or that would fit the theme that I was envisioning. So! I decided to make my own invitations. I googled, "Lil' Wayne" and one of his album's popped up that had a photo of him on the front as a baby. That was it! I played around in photoshop and bada bing, bada boom, Beau would be dropping his CD and having an album launch party (cough*birthday party*cough). Don't worry, I made sure that I put that the artwork was tampered with, and that it was just for fun, and that it was NOT for resale. I don't need Lil' Wayne coming to sue me ya know what I mean!? :) Hahaha!
The back of the CD was my favorite. We listed all of the information and details as if they were songs.
It said:
"1. Yolo! It's My Birthday Feat. BBHP (Beau Beau Hot Pants, our nick name for Beau)
2.Makin' First Birthdays Cool Since 2017
3. Our Hood: (Listed Address)
4. Hit up my mama if you can come plz (aka RSVP)
5. Her Digits: (Digits go here)
6. Or Her E-mail: (E-mail goes here)
7.Bring yo swim suit if ya wanna play in my poolcuzzi.
8. DDHP (My husband, Drew Drew Hot Pants, & Beau's Dad), says all Pimps, Homies, and Big Papa's are Welcome too! (AKA bring your dudes)
9. Fo Real though, plz let my mama know if you comin'
10. Hope to see you there homies!
11. Peace and Cool Grease!
12. Mommy on My Mind Feat. DDHP
13. Milk and Juice
14. Wake Up Drank Up Spit Up
15. 9 Months soon the inside and 12 on the outside
BONUS TRACKS
16. I shizzled my dizzle fo rizzle
17. Trouble Maker in Da Making
18. Droolacito (Feat. Justin Bieber)
"This Party is gonna be off the heezy FO weezy!"
Executive Producers: My Mama, Shalyn Freaking Nelson and Big Papa, Drew Drew Hot Pants (DDHP)
In case you missed it:
Just a reminder to please rsvp.
Please text or e-mail by August 25th.
(Phone Number)
(E-mail)"
And I also made sure to include this at the bottom: "This invite is not for professional use whatsoever. The artwork is taken from the Lil' Wayne CD and we are not using the graphics for resale. Only for fun. Ya Feel?"
And because I'm super into detail, you will notice that there are all "1's" in the barcode on the back and the party started at 11:11 and ended at 1:11. Also, all 1's.
I printed the album cover and back on photo paper from Office Max and then I decided to put labels on an actual blank CD so when it was opened, it looked like a legit album. :) I was going to burn songs on the CD's but I ran out of patience and time. I love how they turned out.
We thought about hosting Beau's party at a cool Airbnb in Austin, and we looked into a few rental spaces, but after looking at the budget a little closer, we just decided to host it at our home (a fixer upper)...which is always a work in progress. Our backyard was in bad shape so we ended up landscaping our backyard like crazies (which lasted until 4 am the night before his party lol…but hey! We needed to do it anyway :)) We laid grass, we brought in some rocks, we put a wood panel around our AC unit outside (much easier on the eyes) and even painted our concrete porch to be black and white checkered. My husband, Drew, deserves this biggest shout out for being the world's greatest husband and Dad!
Drew, his Dad, and his buddy Nathan worked their bums off to make a little Tattoo stand (because what rapper doesn't have a tattoo!?), a stage, and a backdrop for the cake smash. I know. We went a little -OKAY- A LOT overboard here, but the backdrop was the one thing I really didn't want to compromise on, and trust me, there was a lot of compromising. I tend to get a littleeeee carried away (all the time) and had to have a few reality check in's (Hey, Shay? It's a one year old's birthday party. He won't remember it.I KNOW Y'ALL. I KNOW!) I go big or go home always, and if you know me, this is all very normal behavior for my creative blood -thanks to my Mom. (Hi Mom!)
For the tattoo bar, I ordered temporary tattoos from Amazon, and Beau's babysitter blew up a few animal balloons for the older kiddos at the tattoo station. "Lil Tats - It's not wut you ink!" is just a spin on "It's not what you think" meaning, Don't worry, it's a fake tattoo, Mom! CHILL! :)
For the cake smash (aka, the main attraction), Drew and his buddy Nathan built the stage and backdrop with wood, and painted it white. My friend Rissy and I went to about four different Party Cities looking for O's, N's, and E's. It took forever, but we found them!!! I spray painted the letters, which were originally silver, with a black spray paint that we got from Home Depot. It was the perfect look for the party and I LOVE how it turned out. We stuck the letters on the backdrop with black duct tape and it ended up holding really well! I also ended up painting some speakers to put on the side of the stage.
Ball So Hard (a pun from a rap song) was our sign for the ball pit area. One year old parties are a little hard to find things that entertain, but this was definitely a hit. We got a swan pool and some white balls and beach balls from Amazon.
We had a little sitting area next to the table. Sit Down. Be Humble. (A pun off of a Drake rap song.) We also strung black music notes from the tree branch above the table.
We had the main tables draped with white table cloths and rental chairs from Marquee Event Rentals. There were supposed to be ginormous black and white balloons down the middle of the table, but that morning there was a major balloon fiasco, (seriously, pure chaos lol), and let's just say, I'm happy we even had a balloon at the party lol. Also, just a word for the wise…host your party later in the afternoon/early evening. Because hosting it at 11 am was extremely stressful. ;)
We had black and white bandanas, chains, and grillz for everyone to wear. We also had fake kids play money that was spread all over the table as well.
Next to that was our picnic table which served as the piggy bank decorating station, hence the sign, "Money in the Bank…Show em' what ya make!" I loved the idea of everyone having a piggy bank to take home with them. We got most of the art supplies from my box of art things I've collected over the years, but we also grabbed a few safe and washable Crayola paints and stickers/jewels from Target.
In the other corner of our yard, we had a pool (aka "Jacuzzi tub" because there are always jacuzzi's in rap music videos), because we live in Texas and the temperatures don't cool off down here for a veryyyy long time around. We had the sign, "All I do is Swim, Swim, Swim, No Matter WUT!" which is also another pun from a rap song.
The dessert table was supposed to have a cool backdrop behind it, but we bit off more than we could chew (cough*redo our backyard*cough), so although it isn't the vision I had in mind, we still had some super awesome treats for everyone. The letters Beau are from hobby lobby, and were going to have lights put in them, but we never got around to it. So, we just spray painted them with black spray paint and cut off the top to give it a hollow look.
I decided to make my own cupcake stands because the ones in the store were a little too pricey for the budget. I took two plastic plates and two plastic bowls from Target and glued them together. Easy peasy and worked like a charm. Nobody knew the difference. :)
Also, Champagne is in about every rap song known to man these days, so of course we had to have some mimosas. We got our smash cake and cupcakes from HEB. (Store bought cake for da winnnn!) Of course they were chocolate and vanilla ("black and white" to match the color scheme). The cupcake and the cake toppers are from my high school friend, Jenn, who owns her company Jenn & Jules Designs on Etsy and makes THE COOLEST THINGS EVER! You should seriously remember her for your next party! Her customer service is freakin' KILLER too!
The cookies were made by Paige's Bakehouse, and it's safe to say she knocked these out of the park! She really brought my ideas to life!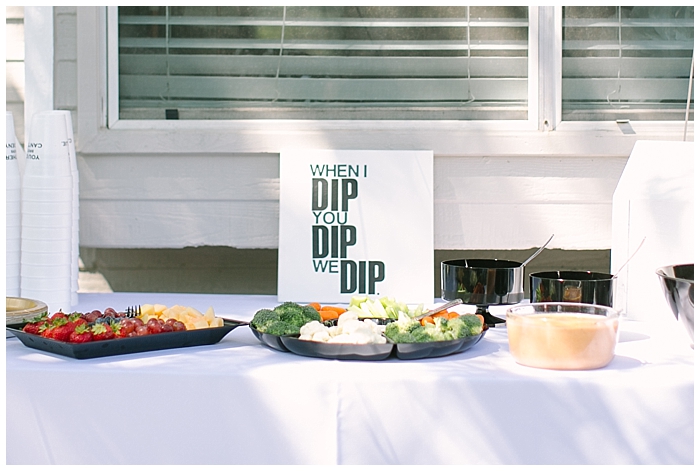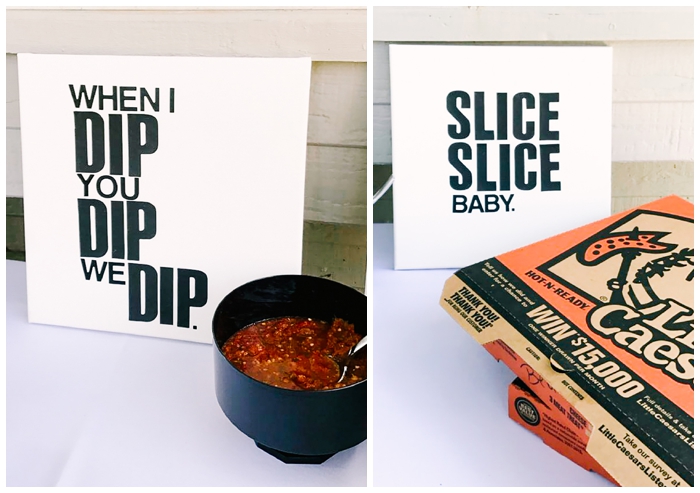 For food, we kept it simple and had a fruit tray, a veggie tray, chips and dips, and pizza. The best advice I got from friends who have had kid parties was to keep the food easy, so that we did! I'm so glad we did too! For the chips and dip, we had the sign, "When I dip, you dip, we dip!" and for the pizza (thanks Dominos!), we had the sign, "Slice, Slice Baby!"
My favorite part of the party was the "PANDA PANDA PANDA" party favor station. We got the pandas from IKEA and the kids and even adults loved being able to take one of these home! They were softer than a babies bottom! FO REAL!
For Beau's outfit, we ended up getting a tattoo onsie I found on Amazon. It was SO cute, and it really tied in the theme. We got his black hat from Marshall's, and his black jeans from Target. We put a little teardrop like Lil' Wayne has on Beau's face (tying in the CD cover here) with some replica Lil' Wayne Tattoos off of Amazon. He had a grill pacifier and he wore a "Gangsta" chain from Amazon and he sported some baby converse, naturally. I wanted to get some MJ's but Drew said no. Haha. #compromise
This party was SO much fun to plan, and I love how a lot of my friends and family got in the rapper theme spirit and dressed up! Especially my Mamaw…who wore a "Flava Flav clock" we found on Amazon to go around her neck. You might remember my Mamaw from this session here :)
AND, last but not least, I ran across dollar bill toilet paper, and it cracked me up. You know I had to order it, and you KNOW I had to put it in the guest bathroom for everyone to use.
Well, that's about it for the party. It was a lot of work, but so so worth it.
White Table Cloths and White Chairs: Marquee Events
Chocolate and Vanilla Cake: HEB Bakery
Hip Hop Cookies: Paige's Bakehouse
"Beau is One Yo" Customized Cake & Cupcake Toppers: Jenn and Jules Designs
Lil' Wayne Temp Tattoos: AMAZON.COM: THUG INK TEMPORARY TATTOOS - 10 TEMPORARY TATTOOS ~ TEARDROP, CROSS, PRAYING HANDS, ETC.: TOYS & GAMES
I Like Big Cups & I Cannot Lie Styrofoam Cups: Discount Mugs 16 oz. Tall Styrofoam Coffee
Water Bottle Labels: Hip Hop Parental Advisory 20 Oz Water Bottle Labels
Black Spray Paint: 12 oz. Semi-Gloss Black General Purpose Spray Paint
Party City Balloon Letters: Air-Filled Silver Letter O Balloon
White Plastic Crates for Pandas: MILK CRATE STORAGE BIN - ROOM ESSENTIALS™
Pandas: Ikea Kramig Soft Toy
Gangster Chain: Party City Gangster Necklace
Craft Kit for Piggy Banks: KID MADE MODERN® ART KIT - SMARTS AND CRAFTS CASE
Wiggly Eyes for Piggy Banks: BETHANY MOTA ADHESIVE WIGGLY EYES
Jewels for Piggy Banks: CHENILLE KRAFT® GEMSTONES CLASSROOM PACK), ACRYLIC, 1 LBS - MULTI-COLORED
"BEAU" Letters: Paper Mache Letters
White Plastic Bowl for Cupcake Stand: ROUNDED SQUARE MELAMINE POLKA DOT 45OZ BOWL WASHED INDIGO - ROOM ESSENTIALS™
White Plastic Plate For Cupcake Stand: ROUNDED SQUARE MELAMINE SALAD PLATE 8.5 " WHITE - SET OF 1 - ROOM ESSENTIALS™
Black Letters for Signs: REPOSITIONABLE ADHESIVE-BACKED LETTERS BLACK 7.47IN 1.06IN ELMER'S
Crayola Kids Washable Paint: CRAYOLA® KIDS' PAINT WASHABLE 10CT 2OZ CLASSIC COLORS
Swan Swimming Pool: AMAZON.COM : KANGAROO'S SWAN INFLATABLE KIDDIE POOL : SPORTS & OUTDOORS
White Balloons: AMAZON.COM: MOWO 36'' WHITE GIANT LATEX BALLOON WITH TASSEL (2 SET, METALLIC GOLD, PINK, WHITE TASSELS): TOYS & GAMES
Clear CD Cases: AMAZON.COM: MAXTEK 10.4 MM STANDARD SINGLE CLEAR CD JEWEL CASE WITH ASSEMBLED BLACK TRAY, 50 PACK: ELECTRONICS
Black Bandanas: AMAZON.COM: NJ NOVELTY - BLACK PAISLEY BANDANAS ONE DOZEN - HEAD WRAP SCARF WITH ONE PRE-TIED PAISLEY BANDANA BIKER DU RAG SKULL
White Bandanas: AMAZON.COM: NJ NOVELTY - WHITE PAISLEY BANDANAS ONE DOZEN - HEAD WRAP SCARF WITH ONE PRE-TIED PAISLEY BANDANA BIKER DU RAG SKULL
Tattoo Onsie: AMAZON.COM: INFANT TODDLER BABY BOY GIRL TATTOO PRINTED SLEEVE ROMPER BODYSUIT JUMPSUIT: CLOTHING
White CD Labels: AMAZON.COM : AVERY CD LABELS, MATTE WHITE, 40 DISC LABELS AND 80 SPINE LABELS (8692) : PRINTER LABELS : OFFICE PRODUCTS
Fake Money: AMAZON.COM: $9300 IN PLAY MONEY - PRETEND DOLLAR BILLS - REALISTIC MONEY STACK - THAT LOOK REAL - SMALL BILLS (5 X 2.5 INCHES) -
Grillz: AMAZON.COM: FUN BLING BLING GRILLZ - SET OF 10 GOLD AND SILVER INSERT GRILLZ * FUN FAKE TEETH: TOYS & GAMES
White Beach Balls: AMAZON.COM: 16" SOLID WHITE P7 BEACH BALLS: TOYS & GAMES
Money Toilet Paper: AMAZON.COM: MONEY TOILET PAPER ROLLS BATHROOM TISSUE NOVELTY 100 DOLLAR BILLS - PACK OF 4: HOME & KITCHEN
Gold Chains: AMAZON.COM: BIG GOLD CHAIN: TOYS & GAMES
Poolcuzzi : AMAZON.COM: INTEX ROUND 7.5 FOOT INFLATABLE FAMILY FUN SWIMMING CENTER POOL, WHITE | 57192EP: PATIO, LAWN & GARDEN
Number One Balloon: AMAZON.COM: 34" NUMBER 1 BLACK: KITCHEN & DINING
Flava Flav Clock Necklace: AMAZON.COM: WHITE RABBIT CLOCK / HIP HOP RAPPER CLOCK - OVERSIZED (NON-FUNCTIONING): HOME & KITCHEN
Black and White Tassels: AMAZON.COM: TISSUE PAPER TASSEL PARTY GARLAND (20 TASSELS PER PACKAGE) - 14 INCH LONG TASSELS (BLACK, GRAY, IVORY, WHITE, GOLD):
Chains: Dollar Sign Necklace,1 Dozen
Grill Pacifier: AMAZON.COM : BILLY BOB GRILLZ PACIFIER : BABY PACIFIERS : BABY
Temporary Tattoos:

Inked by Dani Tattoo Temporary Tattoos
White Ball Pit Balls:

Lightaling 5.5cm Ocean Balls Soft Plastic Pit Balls White 100pcs