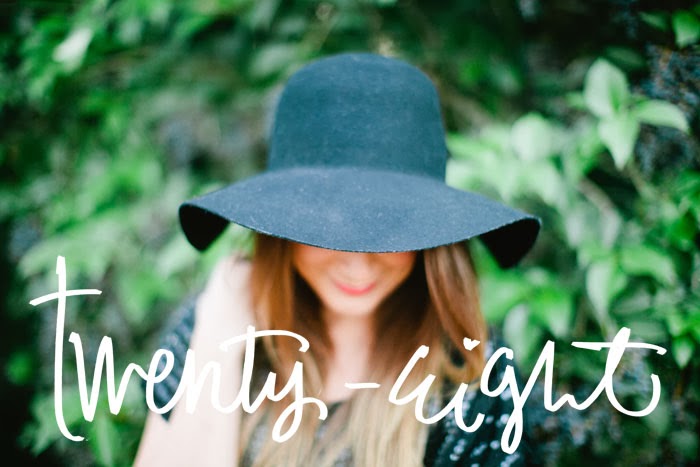 Today is my twenty-eighth birthday. Meaning, I've been given twenty-eight years to breath, love, learn, hurt, cry, laugh, celebrate, and LIVE. It's been weird and bittersweet…this whole aging thing. I'm by no means saying, "I'm old" but knowing that I'm only two years away from the GULP *thirty* year mark is kind of scary. Okay, it's really scary.
I remember being eighteen, graduating high school and driving 2,000 + miles from California back home to Texas. I went to college. I met the love of my life at twenty. I turned twenty-one, went to Vegas, saw Justin Timberlake in concert and celebrated the not having anymore big black "X's" on my hands that wouldn't wash off for days from going dancing at the bars with my roommates. I got engaged, graduated college, moved into my own apartment at twenty-two. (Take THAT Taylor Swift!) I got married at twenty-three to my best friend, honeymooned in Greece, got stitches in my head on said honeymoon in Greece, and moved to this amazing city called Austin to start our lives together. Drew and I bought our first house at twenty-four. I was dramatic and thought I was only going to die at twenty-five. Remember this? :) I started my business that same year and here I am, three years later with a few more fine wrinkles, a bucket full of amazing memories, a few (heaping) cups of hard times, a book of lessons learned the hard way but the best way, some scars and battle wounds, meaningful friendships, a grateful heart and a much more defined smile line. Y'all. I'm in my LATE twenties. When the HECK did this happen MAN!? All I know is that I want to make these last two years in my twenties really count.
You know that saying, "They get finer with age?" Oh yeah. I'm wine, baby! Just kidding. However, I will say that I'm feeling myself starting to come into my own. I'm getting better at making those difficult decisions, trusting my gut and finding that simplicity in life REALLY is a beautiful thing. Sure, I may not have it all figured out and that's kinda scary if you're the planner type, but I'm becoming less of a planner as I get older. I think it makes life more fun that way…and a lot less disappointing. :)
Slowly but surely, things are starting to make more sense and that's a pretty neat realization when it finally hits you. Those small things you sweated…they really, really DO NOT matter. Whatsoever. STOP sweating it y'all. Go put yourself in a freezer right now and cool off. Slow it down. You can pay me in hugs when you finally do this for yourself. :) That's the best advice I have right now.
Drew asked me the other day what I wanted for my birthday, and besides a bike with a basket (one day bike, one day we shall be one, but until then, we will learn patience!) ...I realized that I wanted a lot of things.
Twenty-eight things to be exact.
- I want to sleep in with no alarm clock and not worry about taking the dogs out to pee. I want to sleep until my body can't take it anymore and I can open both of my eyes and sigh at the beauty of REST that my body just had.
- I want breakfast in bed delivered by the hottest husband on the planet. It could be as simple as a pop tart because really, I just want to see my handsome husband carry a tray to me with that gorgeous smile of his. Heck, if he could sit on the tray and deliver that to me, I'd be cool with that. Yep. I change my mind. I want that. But coffee, first.
- I want to get dressed for the day and take a photo to document that I actually got dressed and put on make-up. And did my hair. I don't want to rush either. Just take my time and not be bothered with a time or "Hurry up Shalyn, we need to be there already." Oh yeah. #selfemploymentproblems
- I want a HUG. I want a lot of hugs. Like, a million bajillion freaking awesome hugs. You know, the kind that genuinely convey affection, the bear-squeezy kind that pick me up off of my feet. Yes. That kind of hug. Sounds so hug-tastic doesn't it!?
- I want a good belly laugh. The kind where you go silent, your face turns bright red, you hunch over and tears come streaming down your face. You know the kind I'm talking about. When you inhale and make that loud hyena noise when trying to inhale but can't breathe and you fall on the floor and might even snort, or pee a little or feel an ab muscle you didn't know existed.
- I want to go buy Polaroid film and document my entire day. Even if that consists of nothing but sitting on the couch and watching TV. I'll just have to find different angles of the television. I have like eight different pillows on my couch, so that's at least eight photos. But if I do happen to get out of the house, I want to take photos of everything. All the small things that make my heart the happiest. You know, like holding hands in the car. I really love that.
- I want to find a swing and SWING my heart out and not have any guilt about anything else I should be doing. I might even get brave and jump out of this swing. Let's hope I don't break anything.
- I want to leave a note for a stranger. I'll tell them how awesome they are and to be thankful that they are alive and that January 17th is the raddest day of the year and that they should celebrate because all the cool kids are doing it.
- I want Mexican food. Lots of it. And I want to splurge and order queso and sweet tea and maybe even a margarita if I am feeling friskeh! and when Drew looks at me like, really babe? I will just smile. It gets him every time.
- I want to order two desserts because I have TWO thighs. Makes sense to me.
- I want Drew to dance with me in our living room to our favorite song. In my birthday suit. Just kidding. About the favorite song part. It could be any song. ;)
- I want to tell all my friends and family I love them. Because I really, really do. For me, it comes from this overwhelming place of feeling genuinely loved on my birthday, which has to do with these said family and friends but also with the weird phenomenon that is Facebook and Instagram, where people from all walks of my life reach out in the tiniest yet significant way and bring a smile to my face. It makes me want to crawl through the screen and hug them. Over and over again.
- I want to smell the roses. Or whatever flower I can find in my path.
- I want my friends to send me videos of them dancing, singing, or laughing without their mouths moving.
- I want to throw the toy outside with Piper and Furlee and watch them get so excited and bounce around the grass like little hooligan fur muffins. They really do bounce like fleas and it's the best.

- I want to lay in the grass with Drew on a blanket and look at the sky. With my stunner shades on. I just want to breathe in life around me and thank the Lord for letting me be alive. WHAT A GIFT.
- I would like the news to report something happy. ANYTHING. Like hearing that a monkey hugged a banana at the zoo today.
- I would like to get a Dr. Pepper from Sonic. Route44 please.
- I want to see if I can get a truck driver to honk at me if I pump my arm up and down like I did when I was little on road trips with my family. Honk it for me babehhh!
- I would like my shoulders to drop, just an inch or three, until the weight of all the things I find myself holding onto were lifted from them. I hear massages help with this. *Hint*Drew*Hint*
- I would like to feel better about the vastness of the universe, and how small I am in comparison.
- I would like a cupcake. Preferably with gold sprinkles, but if that's too much to ask, any color of sprinkles will do because HELLO!? SPRINKLES!!!!
- I wish my neighbor would get rid of the eight jet ski's in his driveway. He's really cramping up my neighborhood's space.
- I want to sing as loud as I possibly can to the Britney Spears or Spice Girls in my car. I'll then roll down the windows and see if I can get a stranger to sing along with me.
- I want to go to sleep with two socks on and see if I can manage to wake up with them both on. The mystery of missing one sock the next morning boggles my mind.
- I want to see my Mom, hug her and thank her for birthing me 28 years ago for 8 long hours. I must have been worth it though. Obviously. ;) I can't imagine celebrating this day without her because let's face it, it's a big day for our Mom's too! :)
- I want to blow out 28 candles. I want to wish that all these things come true.
Love,
Shalyn, the twenty-eight year old