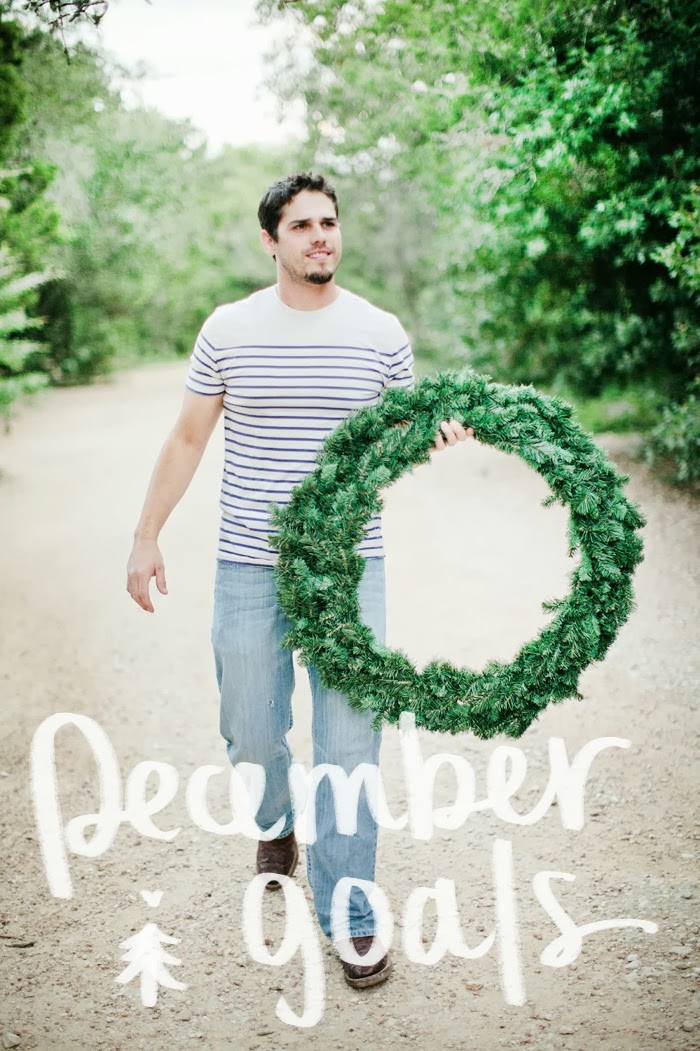 How cute is DDHP!? :) I snapped this on a Christmas shoot and think he looks so hot holding a wreath lol. Sorry, I'm obsessed. #youcanvomitnow
Ho! Ho! Ho! Holla! Holla! Holla! It's DECEMBER!!!!!!!
Christmas trees, hot cocoa (I put the AC on in my house in December sometimes just to pretend it's cold outside), twinkly lights, Christmas music, family, friends, cookies, unwanted pounds, candy canes, jingle bells, Christmas carols, Christmas cards, snuggling, Christmas movies, and most of all…The real reason for the season… The birth of our Lord and Savior, Jesus Christ! :)
HOORAY! It's my favorite month of the entire year! The glittery energy this month brings to the world is something I wish we could pour over and over again into every single month of the year. Could you imagine how much happier this life we live together would be? If only! :)
November was a month full of gratitude, thankfulness and busy schedules. Thanksgiving was wonderful, GLOW was the best day ever,
Rhi
came to Austin and surprised our client at her engagement session (so much fun!) and Drew and I photographed three wonderful weddings. I missed Drew being gone A LOT and had a few days where I let it get the best of me (this whole distance thing) but we made the time we did have together awesome. :) I also felt like I was finally starting to get the hang of a routine, finally starting to learn how to manage my time more efficiently and consistently, finally starting to learn how to establish boundaries, and finally starting to learn that you really can do the best that you can and nothing else matters. Notice how I said learn? Learning is good. I didn't accomplish all of my goals because well, I tend to think I can do it all sometimes, and I simply can't. I'm LEARNING to be okay with that and learning to adjust accordingly. Being realistic is a constant battle but I'm making progress! :) The good news is, the goals will STAY on the list until I get it done. IT WILL GET DONE. I need to learn how to simplify, simplify, simplify. (That will be a New Years Resolution NO DOUBT!)
Now that November said PEACE OUT, my pants are a little tighter and the turkey's have gobbled their little hearts out…I'm now sitting here thinking WHOA…It's the last month of 2013!? UN-REAL. Instead of reflecting on all the things I didn't do this past year, I choose to celebrate the things I DID do. You should try it. Sure, we all wish we could have done more, been more, seen more, loved more, and accomplished more… but I refuse to look at it that way. I'll reflect more on these thoughts next month, but for now, I'm going to focus on the next 31 days of 2013, be IN the month of DECEMBER, be completely present, not think about January and REALLY make this month COUNT.
I choose to be more in the moment.
I choose to get
ish
done.
I choose to breathe.
I choose to slow down.
I choose to rest.
I choose to refocus.
I choose to reflect.
I choose to love
more
.
I choose to be still.
I choose my marriage.
I choose friends.
I choose family.
I choose happiness.
I choose the Lord.
NOVEMBER GOALS
Do a proper introduction of Hattie (I swear it's coming)
Go to a freakin' Yoga Class (ANYONE WANT TO GO WITH ME!?)
Before/After Front Foyer
Tile Front Porch
Continue to work on Love, The Nelsons Website
HOST THE GLOW WORKSHOP! (I CAN'T WAIT!)
Photograph Two Weddings (Ending my 2013 Wedding Season!)
Photograph Six Sessions (Ending my 2013 Portrait/Engagement/Bridal Season!)
Spend more time in prayer - Really work on my relationship with the Lord where I fail.
Go to the deer lease with my family
Take my advanced calligraphy course with Lauren
Finish Reading "Boundaries"
Complete all October/November weddings by first week in December (Fingers crossed)
Do my best and not apologize for it
Continue to NOT be glued to my phone
Pay It Forward
Drink MORE water (No more kidney stones, please!)
Tell someone in my life thank you every single day
Host a friend in Austin
Finish Guest Bathroom Renovations
Make my bed every day
ONLY ONE SOUR PATCH KID BAG EVERY TWO WEEKS (This will be really hard, sadly)
Take Christmas Card Phi-zotos
Research places to go for my 5 year wedding anniversary with Drew in March! (DANGGGG GINA!)
Make out with Drew (HAHA! Jk. ;)) Okay - I'm totally serious.)
DECEMBER GOALS
Introduce Hattie (Seriously!)
Front Foyer Before & After
Continue to work on Love, The Nelsons Website
FInish Reading "Boundaries" (Only two chapters left!)
Complete ALL weddings and sessions of 2013 by December 20th
Only photograph LIFE around me/ No sessions or weddings to re-charge-re-focus-REST & oh yeah, get caught up!
Get office organized (again) - It's a mess
Send in equipment to get cleaned
Clean out closet and drawers in house (NIGHTMARE)
Get Receipts, Papers, Contracts, E-mails, Hard-drives ORGANIZED
Focus on the behind-the-scenes of my business that I haven't had time for
Watch my favorite holiday movies with DDHP
Christmas date with DDHP
Be more in the present (Joining Lara in #presentdecember) YOU SHOULD JOIN!!
Order Christmas cards and send them out to friends and family (We might have gone too far this year y'all…Oh man.)
Host the small group (Coffee & Word) at my house for brunch
Host Christmas Party for Brunch Bunch (Group of sweet muffin photographer friends here in ATX)
Spend more time at home with Drew (Sadly, this is something we HAVE to plan for haha)
Go look at Christmas lights with Drew
Triple date with friends
Pay it Forward in a big way
Update my address book & SAVE IT (BECAUSE I NEVER SAVE ADDRESSES AND HAVE TO ASK EVERY.SINGLE.TIME - Gosh, I am annoying.)
Complete all Christmas shopping by December 15th
Gift myself with two weeks of vacation at the end of this month to breathe, relax, and reward myself for a crazy-tiring-busy year and ENJOY time with my family and friends. My boss has been HARD on me this year y'all. ;)
Pray. Every. Day.
Pray MORE for others. How can I pray for you?? (Leave a comment below and I'll add you to my prayer list!)
Get myself a MASSAGE. OHHHH yeahhhh. Cannot. Wait.
Cuddle my heart out with DDHP. Smack his bum.
DECEMBER. I LOVE YOU.
So tell me loves, what are your December goals?? :)
Here's to the home stretch friends and making December count. We got this.