As you might know,
back in August
I took a "Leap of Faith". I remember feeling on top of the world, and it could not have came at a better time considering what was going on in my life at the time. That leap of faith was quitting my full-time 8-5 office job, transitioning into a part time position for another company, AND working part time for my photography business. That meant taking a huge pay cut, saying goodbye to my future 401K, and losing all of my health/dental insurance for the time being. As crazy as that decision was, it was also a HUGE step in the right direction to achieve my dreams. Was it scary? Yes. Was it hard? YES. Was it worth it? Yes. Rational? Depends on who you ask. Was it a HUGE adjustment for me and my husband? Chyeahhh. Were there days and nights where I thought, "WHAT THE HECK AM I DOING!?" Oh yeah. Were there tears and doubts and times where I wanted to just give up because finances started to attack us? Oh my goodness gracious, YES. Were there times where I got down and wanted to give up? I'd be lying if I said no!
However, what was the hardest part was always feeling bogged down with MY emotions, MY doubts, MY problems, MY TIME, and that little voice in the back of my head that questioned what I was doing with my dreams. Managing my attention and hard efforts between two jobs was really hard, and at the end of the day, my dreams were still on hold. Things were SO MUCH BETTER than they were when I had my 8-5 job, and the part time job has been a HUGE blessing in so many ways. However, I started to notice how I would let the smallest things get so stressful that I constantly felt like I was losing sight of why I took the leap of faith in the first place.
I knew that one day I'd eventually have one job and I knew that I wanted to be full-time one day, but there were so many reasons that held me back from letting myself get to this point. I started to let my dreams and my business go idle. I started finding myself exhausted again, and not being fair to my future, my family, or my clients. So I started to soul search for myself again. I knew I needed to change my perspective and look for guidance in the right areas.
After many long discussions, an endless amount of prayers, guidance, advice, and just common sense, I started feeling challenged as a photographer. I haven't been able to fully devote all of my attention and give 100% into me or my business. If this was my long term goal, and dream, WHY was I not just going for it? Really, really going for it.
I had a dear friend and accountability partner once ask me, "Shalyn, why are you holding yourself back? Because you want to make everyone else happy? What about you? What about Drew? You are always putting everything and everyone else's best interests before YOU and what is happening because of this? YOU and YOUR dreams are being put on hold. Is this the life you really want for yourself?"
Talk about a wake-up call and snap back into reality.

When it comes down to it, I think that there are two basic human emotions that are the driving force behind each thought, each daily inspiration and that rare but pivotal new-chapter, and life-changing decision. Those things are fear and love.
The funny thing, however, is that they are intertwining forces. BUT in order to feel passionately about something, fear and love
must
coexist.
In our current world where stimulated ideas, new opportunities and innovative minds are so openly welcomed (thank you, social media), oftentimes the biggest thing standing in the way IS ourselves. Granted, other things contribute to us holding back, no doubt, but it's up to US to make those changes, make those sacrifices, and make it happen by waking up that dormant state of mind.

Being a photographer today has become more than what it used to be. It's competitive. It's cut-throat. It's intimidating as all get out. The market is super

over-saturated

with passionate and mega-talented people. There is always going to be someone better than you. But that is okay! :) I always hope that one day I will fit in, somewhere, somehow and I hope it's in a good place with good hearted, genuine people who want to help, support, and encourage one another every step of the way. As much as these things could hold back anyone, I know that I can't let it. I just can't. I've had a lot of incredibly eye opening moments this year and it's made me start reconsidering my life, my relationships, my actions, my backbone and my business plan to

ONE DAY

be a full-time photographer.
How was I going to be a successful business owner if I still continued to spread myself too thin? How was I going to make the experience that I'm providing to my sweet and supportive clients BETTER? I owe it to them more than anything right? I need to show them I appreciate them more than they could ever imagine.
Thankfully, I realize/realized that I was stalled on the side of the road of that path I started to take. I found a lot of distractions along the way and I have been holding back because of a handful of super stupid adulthood roadblocks and speed-bumps. Guess what though y'all? That's life. The roadblocks will always find a way to stop me. The speed-bumps will always be there to slow me down. It's how I get past them is what matters and the decisions that I make to continue my journey.
The key to figuring out what I was going to DO to fix it, was to piece together this puzzle of thoughts, listen to my gut, and ANSWER it with ACTIONS.
So, here is my announcement after all of these long winded thoughts of mine. I'm putting my dreams into REAL action. Full force. With the best of intentions. With a full, faithful, and happy heart.
Today I declare today: "ONE DAY."
TODAY, February 22nd, 2013, is the day that I am declaring myself as a FULL-TIME Wedding and Lifestyle Photographer. I AM SELF-EMPLOYED. I AM SELF-EMPLOYED. I. AMMMM. SELFFFFF. EMPLOYEEDDDDD!!!!!!!
Insert awkward happy poses....NOW!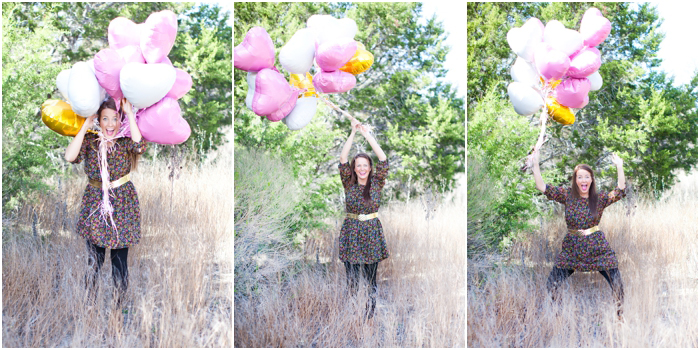 WHOLY CRAP Batman. Do you know good it feels to type that? So, so good. Like, better than an ice-cream sundae covered in sour patch kids good. :)
My heart is sailing.
Am I ready? YES. Is this the time? YES. Am I scared? OH yes. Am I afraid of failure? You betcha! Am I financially sound? Heck no. Is life too short? Most definitely. Am I completely 100% outside of my comfort zone? YESSSS!
It's time I start focusing ALL of my time and ALL of my energy to my dreams, hopes and aspirations. It's no longer a leap of faith. It's a full fledged JUMP AND DIVE into the deep, dark sea of the unknown. There are going to be sharks waiting to gobble me up. There are going to be cold nights and a whole lot of swimming in troubled waters. But I'm hoping, and I'm praying harder than you can believe that I am holding on to Faith that I'll be surfing the waves one day and making my way to the shore. That, or I'll just be in amazing shape from swimming so far! (I'm cool with that too) ;) Drowning just can't be an option for me.
Y'all. I am human. I'm young. OH, and I am a girl. I am destined to have worries and doubts. I'm destined to be judged. I'm destined to care about the small things that don't matter because that's just what girls do sometimes. I'm destined to make mistakes. When Drew and I were forced to face reality last week and make a decision, I sat there and cried. But then I stopped being sad and scared and decided to get HAPPY! I was so

exhilarated

with crazy emotions. It was an overwhelming couple of days of fear and ambitions colliding with each other over and over again. I literally sat there with worry, and huge glassy eyeballs that had "OMG I'm about to pee my pants!" written all over them. Are we really going to do this???
HECK YES WE ARE! :)
We prayed long and hard about it and made a decision. The hardest part was actually MAKING that decision. Now that the decision is made, I'm ready to own it and rock it out. The craziest part of it all was that God answered a long time prayer of ours last week too. In the midst of all the confusion, and what-if's, Drew got a call from the State of Texas offering him a position.
Drew has been job hunting for a long time, and God finally provided. He's been so frustrated, and so exhausted from applying and applying and never hearing back. It's been challenging trying to watch someone you love so much get so down and feel so defeated and then coming home from a job that drained him in every way possible. He reached the end of his rope that had no more room for growth. But finally, he got a nibble, which lead to a haircut :) (!), which lead to a job interview, which then lead to a background check, and the list goes on and on. Granted with every career switch, there are pros and cons. However, he made the decision to support us as a family and chose to embrace CHANGE with me. He made the decision to work for a company that had a career path and chance for growth. Knowing that was reassuring for both of us. Life is about the struggle and that we get through it together as a team. I seriously have the best partner in life. I can't thank God enough for this gift of a lifetime.
To say last week was hard is an complete understatement. Big decisions were made. Prayers were answered. It's now time to make the best of it and do the best we can. YAY for changes. YAY for new jobs and pursuing our dreams! :) Let's pop a little bubbly shall we? The glass is half full today friends. I give you permission to booty dance it up! :)
IF it doesn't work out, because there is always an IF and always someone to see the glass half empty... I like to look at it like this: Atleast I tried. I was recently asked this question: "If you knew that you were going to fail, would you still go for it?" I wanted to say yes, and then I found myself thinking, "Well, no...because if I already knew the end result, I could just save myself the headache and try something else." However, I don't know the answer. I don't know what my future holds, and that's kind of exciting isn't it? It makes the end result worth it, no matter what the outcome. Because for me, life is about the journey; the journey of experience, self discovery, knowledge, and even acquiring a few character-building bumps and scratches along the way.



Even though I can sit here and honestly say that I'm waist deep in fear and doubt, I strangely enough am also on an exhilerated high of the unknown and all of the possibilities and adventure that awaits us.

I'm ready for the journey and I'm ready to try to prove that you can make a living and be happy. You just have to sacrifice a little A LOT along the way, and make that first step.
Life is too short and far too precious to waste time going through the safe motions that distract us from what will really bring us joy. It can be big, or it can be a small or it can be somewhere in the middle. That is what you have to decide because at the end of it all, we have two life lists:
All the things we actually did. And all the things we wish happened.
Make that list right now.
No more Wishing. Do more Doing.
"The Lord desires each of us to take a leap of faith and believe His Word for the situation that we are facing. Is it financial pressures, strained relationship, job demands, or physical need? Whatever the challenge that seems to be capturing your attention these days, are you willing to release it to the Lord? He longs that you take a leap of faith, believe His Word for the situation, and set your focus back on Him. The Lord is looking for you to overcome the hurdle that is holding you captive and keeping you from His loving arms of grace and peace. Jesus, our redeemer, is the answer to the problem that you face. He will carry you through the difficulty, into victory, as you place your trust in Him. He will catch and carry you every time.
"Do not be afraid or dismayed just take a Leap of Faith. Set your gaze and trust on Jesus today. You can always trust Him to catch you in His arms of Grace!"
*Thank you Nycia for taking these photos! I had so much fun with you! :)*