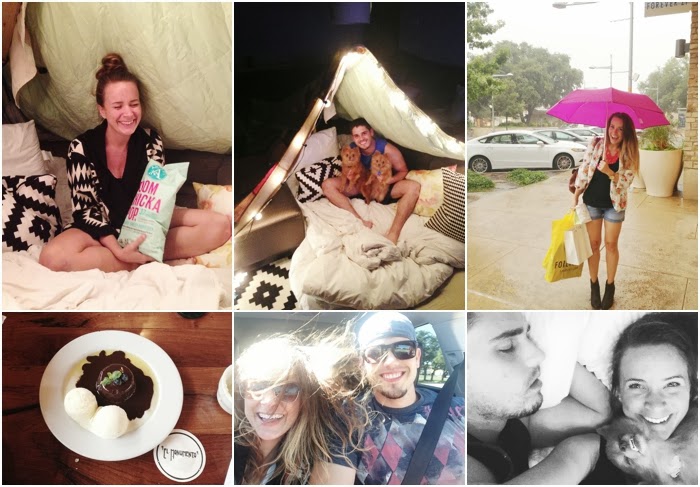 I did something I don't normally do on the weekends, and it was RELAX. Not just relax for a couple of moments...but L-E-G-I-T relax. My body, my mind, AND my heart. For the first time in gosh...I can't even remember, I took time to breathe in this thing we live called LIFE. Drew and I blocked off this weekend a few months ago because we knew that we wouldn't have a free weekend until December...so it was BOOKED. FOR US. AND IT WAS GREAT. It's so important to make time for your loved ones when you are self employed or before you know it, you're working every single day for the rest of your life. ;) I literally kicked my feet up, ate my weight in Flips (chocolate covered pretzels), rested my head in Andrew's lap as he ran his fingers through my hair, belly-laughed about the most ridiculous things, I took TWO naps...TWO...THAT NEVER HAPPENS...I slept in without setting an alarm, I didn't do one single load of laundry, I didn't cook one single meal, I danced in the rain (best moment of the year, hands down) with Drew because it rained cats and dogs on Friday, I set my phone down a lot more than I usually do, I sat in the car in silence and held Andrew's hand so tight and made a conscious effort not to play with my phone while riding shotgun, I rented a movie, and I ate Mexican food Friday and Saturday (I could eat it all day erryday). Drew and I built a fort in our living room, and ended up laying in it ALL weekend long. It was absolutely fan-freaking-tastic.
Basically, I felt normal. :) Haha.
A friend over the weekend posted something on their instagram that I loved. I am pretty sure it's my new favorite word.
"Eunoia"
It means "beautiful thinking, a well mind."
I guess I can say that I lived this weekend just like that. It really resonated with me and I couldn't help but want to bring that word to LIFE and apply it as best as I could to this little head of mine.
It was pretty stinkin' sweetchy'all.
Here is playlist for you to groove to or work to or heck, just listen to as you read blogs. Whatever floats your boat! :)
Treatyoself Link Up is Wednesday! I don't think this will be a big link up...and I'm okay with that. I hope that you atleast made an effort to do something awesome for yourself. We didn't do anything out of this world crazy, and the rain def. wasn't fun to get out in, but I loved Friday and hope you did too! :)
Have an inspirting, and productive week friends. Do something awesome. And great. And sweet. ANd lifechanging! OK!? :) XOXO!