Haiiiiii.

Shay here. You know, the girl that supposedly runs this blog. Yeah, I know, I'm LATE...SUPAH Late with a capital "L" with my Texas Style Council recap. Instead of going into a full paragraph of WHY I have been MIA, you probably already know why, and so I'm just going to hop right to it! :)

Last year when Style Council happened, I remember my friend Jenni (you probably know her) going and telling me how much fun she had. I figured that because it was a "Style" Council Conference, I had no reason in attending since I wasn't exactly a "Style" blogger. I mean, I love me some clothes but I just can't keep up youknowwhatImeanvern? Anyway, over the past year, Jenni would mention the conference from time to time, and I'd get the "You should come" from her and a couple of friends but I just wasn't sure if I could go. When the tickets went on sale, I remember looking at the website and contemplating buying my ticket because 1) WHAT the heck was I going to wear? 2) I haven't been blogging as much as I'd like to and thought you had to be on top of blogging 3) I wasn't a style blogger. Duh. However, I still deep down wanted to attend.

About two and a half weeks before the conference was about to happen, I get a text from Amanda at about 11PM saying, "Are you free the weekend of August 4,5,6? BECAUSE I'm thinking about going to the TXSC and I could come in and we could goooo AND we could do GLOW stuff...WHAT do you think!?"

I was actually open that weekend (but had my nephews birthday party that Sunday) and that just never happens. I took it as a sign. "OKAY Amanda, don't pull my arm or anything."

I was sold and my happy bottom bought the ticket. And I'm so glad I did because y'all, I had SO much fun.

Amanda came in late on Wednesday night and we stayed up late chatting and catching up on life. On Thursday, we started out or morning with Michelle (an amazing local photographer) and her super awesome intern, Mad Rad at Mozart's Coffee. We even spotted "Miley" haha. Crazy right!? :) Thankfully she didn't start making out with baby dolls, or cutting off her fingers and spewing weird pink stuff. I did want to see her twerk though, I'm not gonna lie.


We spent the rest of the day shopping til' we dropped, running errands and of course- found some time to work.
On Friday, we got dressed up and headed on down to the Lulu's Swap downtown to kick-off one of the most fun weekends I've had in a long time!
Lulu's
sent me an array of beautiful dresses to choose from to wear. They have the cutest clothes and they fit me perfectly! Score!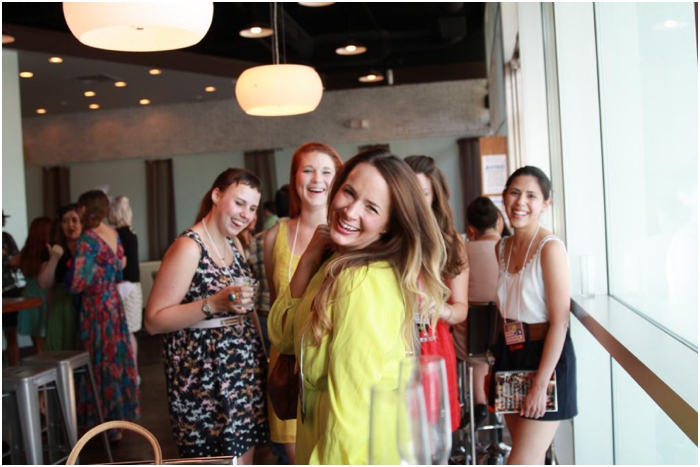 Amanda was my beautiful Prom date and we had SO much fun!!!
Shanna from Because Shanna Said So.
We live in the same city and didn't meet until PROM. WHAT the heck!? I know! It was about time! I loved her like I knew I would and we spent most of the night being taking silly photos with her phone. I also got to meet
From Mrs. to Mama.
She was a total babe and ROCKIN' her white tutu. She was so sweet and loved getting to hang with her for a bit! Like I said, this city is full of some amazing ladies y'all! :)
Indiana
came running up to me and handed me a ribbon saying I was nominated by RUCHE as the "Best Newcomer." My heart was so full. I couldn't even wrap my head around it. THANK YOU FROM THE BOTTOM OF MY HEART RUCHE FOR THE NOMINATION. I love you girls so much!
At the end of the night they announced the winners, and to my surprise, I won "Best Newcomer!" So cool y'all! And so fun!!! Sweet
Shanna
was nominated for "Best Local Blogger" (GO GIRL!) and Jenni won "Best Local Blogger!" Amanda even won "Best Accessory" which was so awesome!!! How crazy that we all got an award! I got home that evening with a smile on my face from all the excitement, and all of the new friends I made. If you know me, friendships mean the world to me. New or old, that is where my heart is the happiest.
On Sunday, I only got to attend the first seminar with
A Beautiful Mess.
I loved listening to what they had to say and I even snagged a photo with them at the end. Yep. I was that girl, but no shame. No shame. My favorite quote from their presentation was, "Write a blog you want to read." Well, YEAHHH! I suppose I should get to work on that! :) I wish I could have stayed and listened to all the other talented speakers that day, but family comes first, and I had a precious little nephew who was waiting for me to attend his 1st birthday party. It was the best weekend ever for so many reasons. I already can't wait for the next one! :)
I'll be back with some styled posts from the dresses I got to wear that weekend this week. Other than that, this wraps up my time with TXSC13. :) If you are thinking of going next time...don't think anymore, just KNOW you have to go. I highly recommend it. See ya there! :)
XO!