Silly title I know, I know. Did you roll your eyes? Smile? Cringe? HAHA! Either way, if you heard me say it, I promise you'd laugh. ;)

Happy Tuesday Friends, and welcome back from the three day weekend! I hope that y'all had an amazing and relaxing weekend full of fun and sunshine! I have a lot of randomness to share today, and a lot of work waiting for me (aye aye aye) so I am going to make this quick! :)

ONE. I recently had the pleasure of meeting the sweetest and most beautiful young lady named Lisa. She blogs over at Something Pretty AND she is featuring one of my weddings today on her blog. Please go check it out HERE! :)


TWO.
Drew and I have decided on a logo for Love, The Nelsons. YEP! We are on our way to being L.E.G.I.T. Can I get a WHOOP WHOOP CHICKEN HEAD!? We will be sharing it here on the blog next week I do believe! :) We can't wait to show you guys!!! :)
THREE.
Drew and I attended...ATTENDED (not worked!?) a wedding on Saturday y'all. I don't know when the last time we attended a wedding either! It was cool! We also haven't been on a date in awhile, and we had such a great time! Not gonna lie y'all...DDHP was looking HAWT! (Insert sizzle noises here).
Not to brag... but we also had the best seats in the house if I do say so myself. They must have known that me and cake are best friends forever.
FOUR.
We celebrated Memorial Day on Sunday with my family at my brother's house in Salado. It was such a great day too. We grilled hamburgers, caught up with one another and relaxed in the pool. It was my nephew Ty's first time in the pool, and he LOVED it! He's such a little muffin and I am SO thankful I have had the opportunity to hang out with this guy so much while we have been renovating our home. We also celebrated my niece Mallory (the hottie in the bright orange swimsuit) and her graduation from ACU. I'm so very proud of her! She is starting her first big girl job today in Dallas for Squires and Company. The girl is mega talented and I have NO doubt she will be doing big thannnngs! You can see some of her portfolio
here
so you can see why I'm a proud Aunt! :)
Ty says, "Welcome to the gun show girls!" Dannggg Ty Ty!
FIVE.
Because this one deserves a bullet point all of it's own. Do you remember my sister-in-law
Christi?
If you're a long time reader, then you will know...but she battled brain cancer two years ago and it was at the time, one of the hardest things I've ever had to emotionally battle. She is the just the best y'all...she has a HUGE heart that loves the Lord and a spirit so incredibly powerful that I can gladly sit here today and say that she is my hero. She's a walking testimony of Faith and it astounds me at how loving, positive, and happy she lives her life despite everything that has happened to her and despite everything she still continues to face. It's incredible. On May 31st, she will be celebrating TWO YEARS in remission. TWO years of being Cancer Free. Praise God! Here we are being awesome chunking up the "Cancer Free" Duece for two years. That's just how we roll! :)
SIX.
We worked on our home yesterday from 10 AM to 10 PM. To say I'm tired is just a given. Drew layed alllll the floors in the living room, and the hallway last week and we finished up the bedroom, and the closet yesterday. I have to also toot my own horn (duh!) and let you know that I layed about 10 of these pretty babies! TEN! I'm the mastaaaaa of the universe! Okay not really.
We also put the trim in the living room last night, and Drew was about
thissssss
close to cutting off his thumb. Talk about a mini heart attack. This boy needs that thumb, because afterall, he is an Aggie. I don't know if his fellow classmates would appreciate a decapitated thumb. Can you imagine? (Only Aggies will probably get this reference).
Anyway, we are working every night this week to get her in move in condition. We still have rennovations to do in the future, but once the trim in, and our house gets a shower (a deep clean), we will be ready to get our muscles in gear and move ourselves back in. Next week is what we are shooting for! :) You can follow our progress on my instagram
here
. #lovethenelsonshouse
Here are some photos so you can visualize this progress I'm speaking about! :) (P.s. Ignore the ugly nasty bathroom you are about to see. This will be our biggest eye sore in our home but it is def. the most expensive room we have left to renovate. One day, one dayyyy.... *sigh*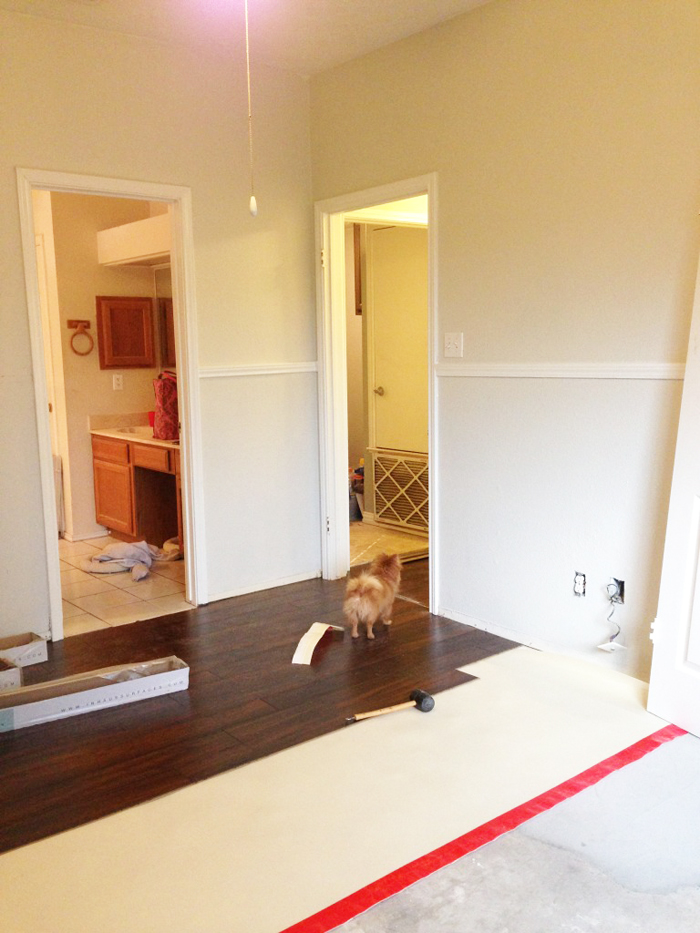 "Hey Dad, you missed a spot!"
Like-a boss. I'm also not faking this photo. Promise I got my hands dirty too. ;)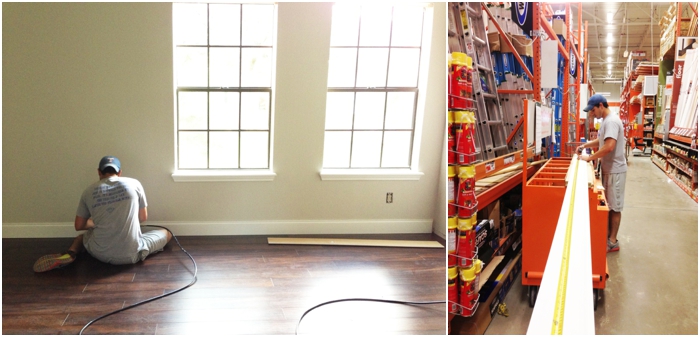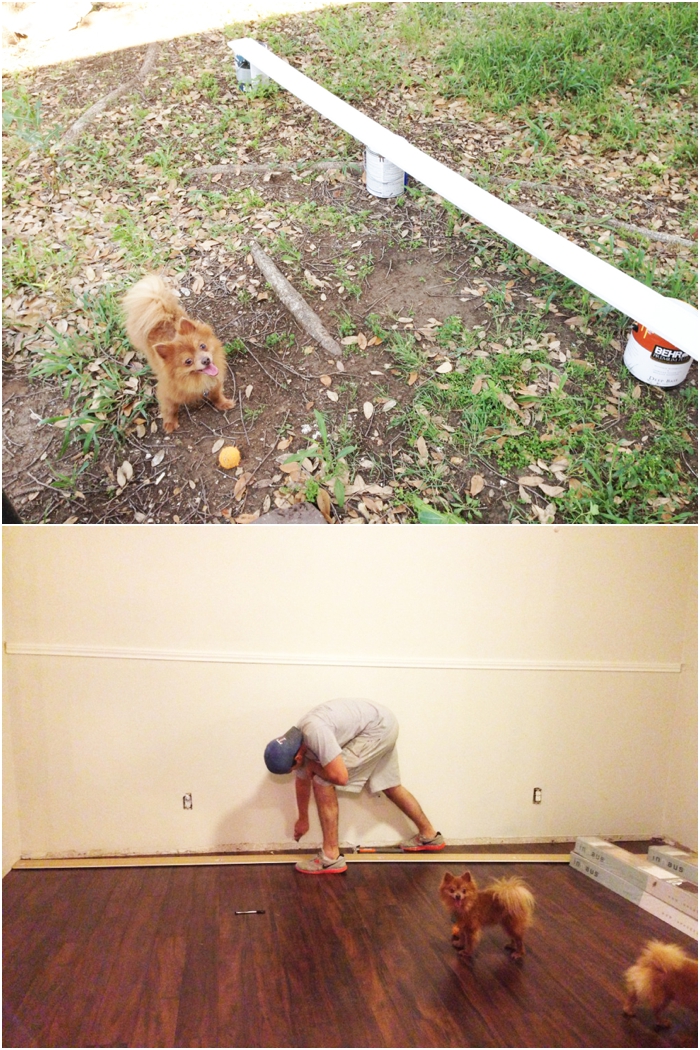 If I never have to paint trim again for the rest of my life, I will totally be okay with that. P.s.) Piper is excited.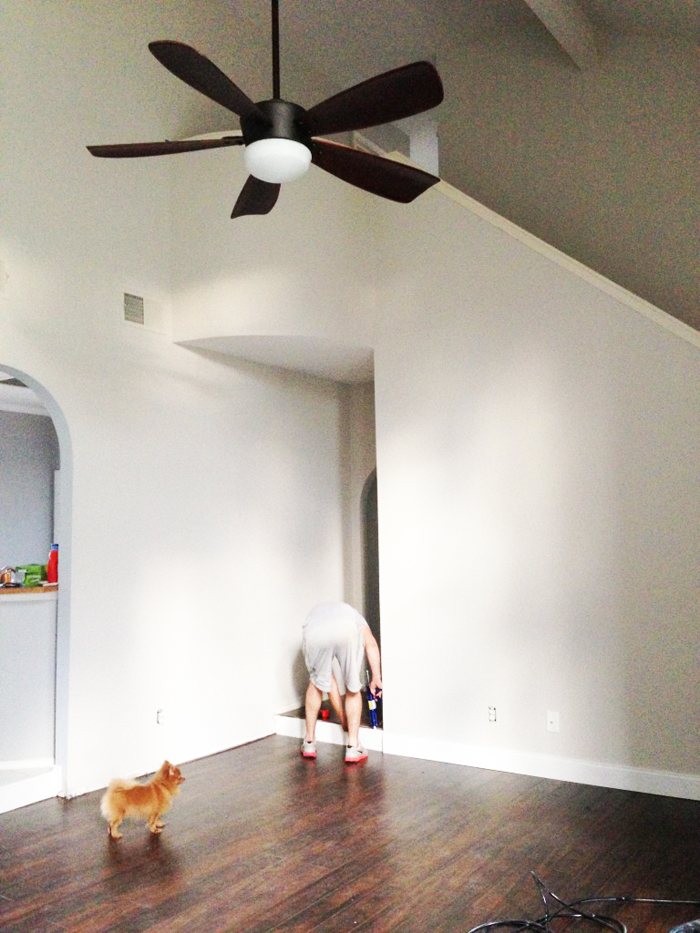 That moment when your dog is checking our your husband's bum...
SEVEN.
We are having a garage sale on Saturday morning and I hope and pray somebody wants something. We have some goodies (promise) so if any of you Austinites need a washer/dryer/clothes/treadmill(#ineveruseit)/tires in good condition/rims/glassware/mugs/tools/housedecor/didimentionclothes? E-mail me and I'll send you our address! :) We are simplifying our home and getting rid of the clutter. It feels SO good. Less is more, Less is more, Less is more. (I have to keep saying this when I start going through our things! So far, so good!) Atleast I think so! ;)
EIGHT.
Drew surprised me with a new photo bag the other day. I saw it online a couple of weeks ago on Kate Spade and said, "Aw, that's cute!" with no plans on buying it and next thing I know, it's on my doorstep a few weeks later. I needed a new camera bag because mine broke, and I guess Drew thought this was a real camera bag (see photo) and thought I could use this for my equipment. Little did he know that the bag was just a litttttle smaller than he thought and only fits a point and shoot. :) Regardless, I love it SO much and his thoughtfulness is something I will never, ever take for granted. That man...
NINE.
Here is a playlist. Just because I'm that awesome. It's pretty random too. Just like this post. But Maybe you will enjoy it? I know I am! :)
TEN.
You're sexy.