Oh, happy day. It's Labor Day...and naturally, I'm working. I have a HUGE list of things I need to knock out...and being the most awesome procrastinator on the planet...I decide to reorganize my spice/medicine/cupcake cabinet? I mean, SERIOUSLY!?
I obviously have issues.
I just wanted to pop in and let y'all know I did it. I DID IT. I am a brunette (again). I was born blonde, but as I got older, my hair turned darker, and I guess you can say I am a natural "dirty blonde" but then God thought he'd change it up and make me a "natural brunette." I dyed my hair brown back in college when I was tubby (hello! freshman "30" haha no lies.) So, my most vivid memories of being a brunette were when I was heavier. I shortly went blonder after that and I just got stuck in the partial highlights for the last, ohhh, 4 years?
Hello, my name is BORINGGGG.
So, I decided since there is so much change happening in my life, WHY not go darker for the fall/winter months?
I almost chickened out because, well, DDHP said not to do it. How dare him right!? WHAT a turd nugget. So I really contemplated it because I still wanted Drew to be attracted to my hairs. (oh la la)
Well, my college roommate came in to visit me from Houston on Friday and we decided to go to go ahead with it anyway. Drew fell asleep on the couch so we decided it was do or die time then since he wouldn't have to hear me cry if I ended up hating it or turning my hair BLACK.
End result? I'm still not sure if I love it, but I don't hate it. It's growing on me slowly but surely. I think I will need to dye it again soon because I didn't leave it on for as long as it said because well, I was nervous it was going to come out BLACK. A few highlights are sorta kinda showing through right now, but I think it gives it that "more natural brown look." Haha.
And guess what? DDHP loves it. He said, "Well, okay, you got me babe. You look hot. I like it. Thanks for
NOT
listening to me." COME AGAIN!? Men.
Boom baby boom! I got lucky.
And the rest of my weekend was pretty awesome. I took REAL TIME OFF because, well, I needed it, BAD. My mind needed a healthy break from photos, and my butt needed to re-inflate from the countless hours of editing. Win, win.
Friday, we dyed my hair.
Saturday was so fun. Jenni danced to some good morning song in my living room, and then went and hung out at the pool with friends. We grabbed Subway, and then headed to The Domain for a little shopping and then later that night, we went and had dinner at a Wine Bistro & Bar.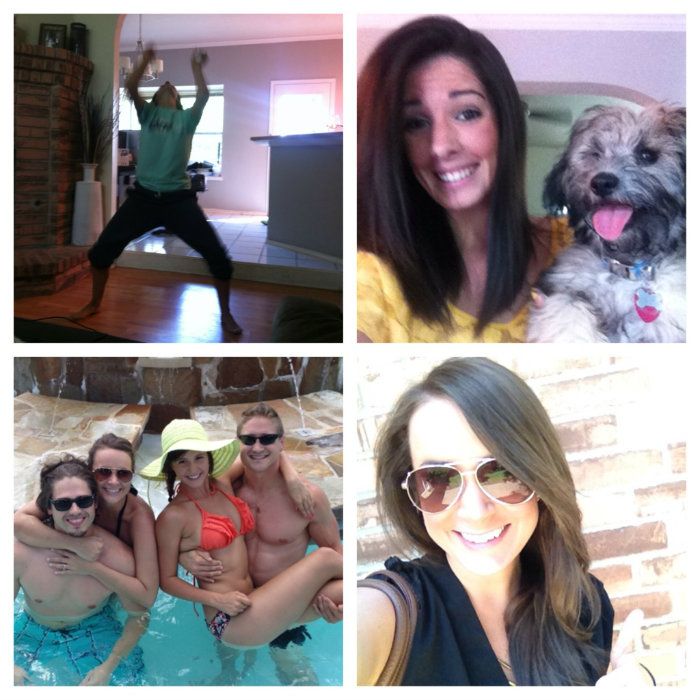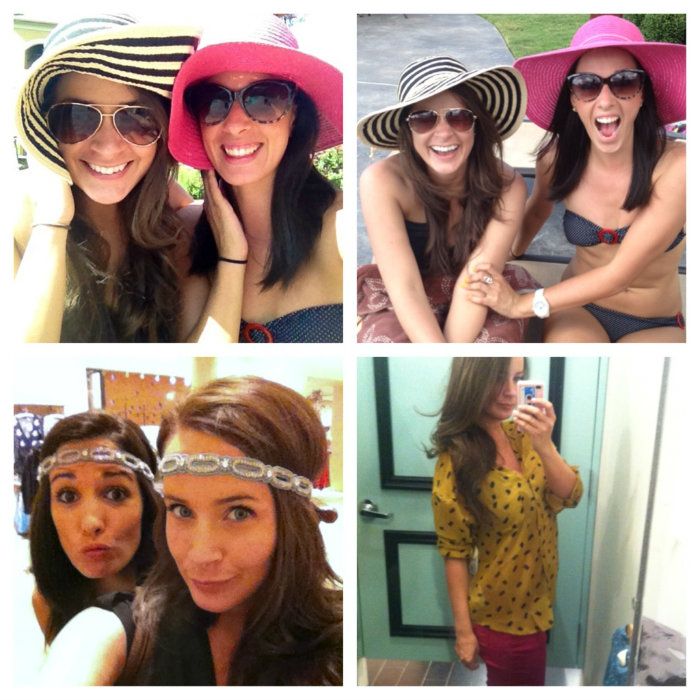 Sunday we went to Town Lake and went kayaking with some friends. We had a blast, and then I had to say bye to Jenni and her sweet little pup Milo. We got home and Drew wasn't feeling well because he had stepped on a nail on Saturday. We kept telling him to go get a tetanus shot, but he refused and said he was okay. UNTIL, Sunday his jaw was popping, his foot was red and he was nauseas and dizzy. Away we went to Urgent Care and got him a tetanus shot and some antibiotics. He's feeling better, thankfully. We then headed back to the house, showered up and went to my brother's house for dinner and to see my sweet baby nephew.
GOOD TIMES. Today is organization day at the house. I have lots of work to do. Drew is at his deer lease mowing and weed eating with his family (I opted out, duh) and the laundry pile awaits me. I hope you are all enjoying your day whether that's by the pool, in your office, or just being awesome.
Tomorrow is my first day with
Hey, Sweet Pea
and then I am headed to Dallas on Wednesday and Thursday for training. I am anxious, nervous, and OH so excited.
Have a wonderful day loves!