Happy Monday Lovies! I hope you all had a wonderful weekend! Mine was pretty good. I was actually home MOST of it, which is seriously a HUGE change for me considering I've had something every weekend for the past 9 weeks. Naturally, I had a crap ton to do at the casa and a mountain of pictures to edit, but other than that, it was nice to just be HOME (for more than 2 hours atleast! ;))


Mr. Furlee was our dinner guest on Friday night. Such a polite little furball.


1. My old college roommate/best fran stopped by to see me on Friday. But before she arrived...DDHP was in the mood to dance.

2. These would be baseboards in my office. On the floor. Ready to hitch a ride to the dump.
3. This would be pulled up nasty carpet in my office.
4.This would be my sexy husband putting in hardwood floors in my office. SAY WHAT!? I can't tell you how excited I am to transform my office into an inspiring little hut of AWESOMENESS. We have had these hard wood floors in our garage for over a YEAR just sitting there collecting dust. They were first purchased for the living room, but plans changed (more on that when I am allowed to ellaborate) and well...I'm not complaining. I'm super excited! :) Oh, and don't worry. I will be doing before and after pictures. Holla!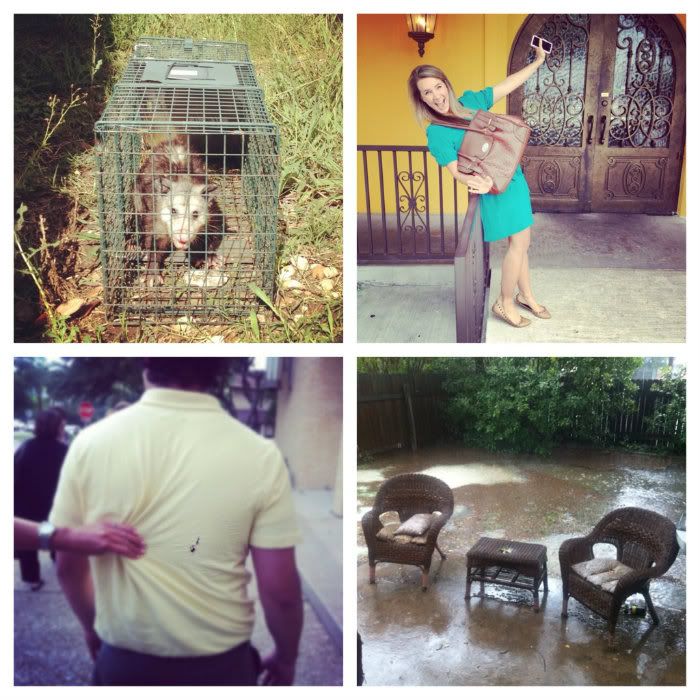 5. This would be oppossum NUMBER 3 that we have caught in our back yard. Saturday night I let the dogs out to go potty and as soon as I heard the high pitched barks, I KNEW we had another one. I swear they are living under our house. SO weird. Anyway, we put out cat food and when we woke up Sunday morning, "BAM!" There he is. Drew took him to be released far from the house.