I know it's been awhile. I took the day off from work today because I have a photography seminar in Dallas tonight which I will share more about tomorrow. For right now, I have the morning to myself...and gosh this sure is niceeeeee. (Insert Borat voice) I can't tell you the last time I felt like I had "time" to just sit and blog. My window is open, the steam on my coffee is dancing around my nose and even though the clouds are heavy this morning, and the air is damp; it almost kind of reflects the way I've felt about blogging lately.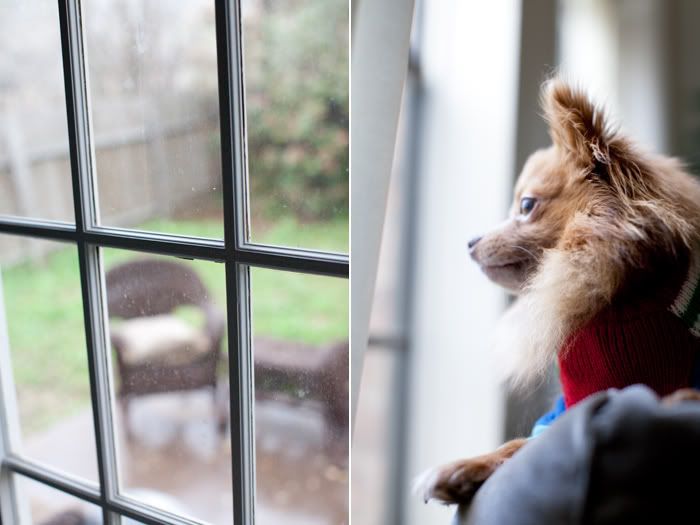 Clearly I need to wash my windows...

I've been away, distant, and have pretty much just SUCKED at reading and commenting. I really do have excuses, but at the same time...I want to be honest. Blogging for me lately has just been down right depressing. I feel that people have transformed so much from who they were when they first started their blogs and that it's just become a populartity contest. Blog posts are more shallow and snotty to a point, I feel. Don't worry...I don't feel this way about 95% of the blogs I follow. Hence the reason I follow. However, I do feel that people have forgot what it's like to just be REAL and to just blog for themselves.

This is actually REALLY hard for me to write. I'm not someone who likes to address or confront people or stir up any drama...so most of the time, I keep my head high and just go along with my day, and if needed, I'll vent to Andrew. I'll "brush my shoulders" off most days...but sometimes I feel like people here in blog world find it almost funny to get under your skin and indirectly try and do this. Do you feel this way? It could easily be resentment, anger, betrayal, jealousy, annoyance...and sometimes it is. However, when I don't allow those feelings to consume me...I'm left with the thought, "Seriously?" I'm mad at myself for letting little petty and catty things get to me...but I know I can't be alone when it comes to feeling this way. People are downright decieving sometimes here in this blogland. It's the truth...And you just can't allow it to get you down.

I'm a very happy person. I try to see the best in everything. You know, I see the glass half full in almost every situation. Things can get me down, but I always always find a way to get back up stronger than I was before. It's all about the way you look at things. It's an attitude I feel you have to have in order to get through life as happy as you can. You can't let people bring you down...because trust me...they will try, and they will try HARD.

My advice?




I feel like some people are perceiving themselves in a certain light here on the world wide web because THEY CAN. They can pretty much tell you what they want, show you what they want, and you are victim to wanting to read more and more about a life that they want you to think they have. It's powerful for them. But I think this is just a sore subject for me for a reason I will not pronounce here on this blog. I'm just going to continue to DO ME. That's all I can do is just be the best version of myself that I can be and stop analyzing small, petty things. Life is too short.

Writing to me is fun. I'm no professional, obviously. I acutally don't try to write like an English major because well, I'm not an English major haha. Most of the time I have typo's and I don't proof read my posts. (Sorry to all of you who get annoyed by this.) But y'all, I'm NOT perfect. Hell, I don't have the TIME to make this blog perfect. Or the money to make it perfect. I'm busting my ass to put food in my pantry right now and gas in my tank...No joke. I work for my money and NOTHING is EVER handed to me on a silver platter. EVER. AND I am proud of that because everything that I've worked for, slaved for, sacraficed for...has all been because I WORKED HARD. I DID IT. And nobody else.

I just feel like the internet is kind of funny and today I just felt like expressing this...ya feel me?

I've had lots to share with y'all. Purchases, Business ventures, Real life woes and WHOAS...and well, I just haven't shared them...yet I don't really know why...but I think I was just in a place where I needed a break.

Time has flown lately, and I feel terrible for neglecting this blog. I wish I had the time to devote to it, but I'm working near 70-80 hours a week...And that my friends, is NO.LIE. I've been going to bed at 2, 3, and 4 in the morning and then getting up at 7 to work from 8 to 5, just to come home, eat, and work until the wee hours in the morning. Guys, I'm exhausted.

The good news is...I know that 95% of you are who you say you are. The relationships I've made through this blog have been nothing short of wonderful and I honestly don't even know what I'd do without the support so many of you generously offer. It's unreal how supportive this blogging community is, and that's why I refuse to quit.

Besides, I blog for me. That's something I will always do. I promise you that. One thing I've decided is that I'm going to let you in a little more into my life. The more REAL side. The deck of cards my life has been delt here lately. It's kind of crazy...but I think it could help you relate to me and well...I want to be honest. And REAL. Just wait...I'll address this very soon.

I've received random e-mails and messages from sweet "strangers" and to those few people...you guys have made my days so much brighter. Thank you for taking the time out of your day to write me and tell me you appreciate me and this blog. You will never know how thankful I am to have received those e-mails. It really warmed and touched my heart.

This is a random out of the blue post for me, I know. I'm behind and this is just something I felt like addressing today. My life lately has been so crazy... I can't wait to share it with you...even though I'm months late to the party.

Thank you guys who have stayed real on your blogs. It's refreshing to read...and it's something that has made me feel like I'm back at home.

I love you guys...and I mean that from the bottom of my heart. When I read your tweets, and blogs (when time allows) I just want to reach through the screen and hug all of you. I really mean that.

Cheers to being back. I can't wait to catch up.

Xoxoxo.