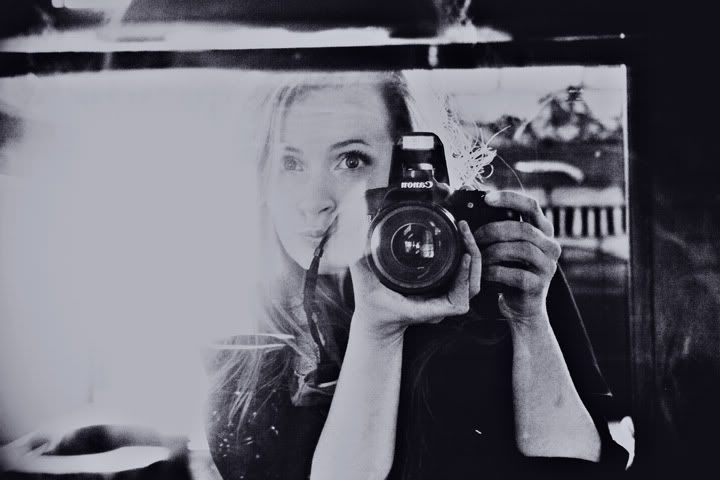 It's been awhile guys...I know. Life is testing me in more ways than I can comprehend. I'll be completely honest for a minute and tell you that I'm struggling with words lately. I'm not able to focus. Stress has taken it's toll and quite frankly, I'm at the bottom of the barrell with my emotions scraping what faith I have in the phrase, "It will get better!" Don't you worry though...I do have my Faith and I am certain that I will get through this series of trials and tribulations happening in my life.
Before I could really appreciate the true meaning of Thanks this past weekend, I had something seriously scary happen to me last Wednesday afternoon.
I got off work and met Drew at the house. I was in a good mood, all was good in the neighborhood and I was so happy that I was going to get to go home to see my Mom that night.
Before we left town, we had to go pick up Drew's truck at the mechanic. When we left, Drew told me he wanted to run by Lowes to get some supplies because he was going to be helping my Mom put up some backsplash, and I decided to drive home to finish up our packing. So, there I was. I was rapping to a song on the radio, being that crazy lady you see driving down the road singing like a fool. Then I thought to myself, "Wow, it's really hot in here." I then rolled down my windows wicked fast, and then tried to crank up my AC (which doesn't work btw) and it kept getting hotter and hotter. At this point, I realized I couldn't breathe. At. All.
It felt as if there were 100 bricks on my chest and I was getting less and less oxygen. My chest hurt so bad. I immediately thought, "What the heck dude!?" I tried to keep calm, and then my vision went blurred and I broke out in a sweat. I couldn't breathe. I couldn't see. I couldn't believe I was driving and then went into freak out mode when my hands and feet went numb and tingly. My nose went tingly.
I started crying thinking, "OMG, OMG, I think I'm having a heart attack. OMG!"
I promise you from the bottom of my heart...I thought I was dying.
I went to grab my phone to call Drew and when I did, I realized I was in the middle lane about to hit another car. I swerved and went pulled into an Auto Parts store where I saw a middle aged man opening up his car door. I rolled down my window with one hand on my chest, and the other hand frantically waving my phone at him begging him to call Drew.
I saw his face go white when he saw me, and he immediately ran over and opened my door. He felt my head and my neck and said "Dear, can I call 911? I need to call 911."
He called Drew first, I thought and before I knew it there was an
wambulance
and a fire truck blaring their sirens right next to me. I think I blacked out at this point thinking, "Andrew, Mom, TURKEY!?" Haha, not really the turkey part but I know ya feel me.
At this point in the story, I'm sure you're thinking, "You're 25. You're a weirdo. Why the heck do you think you were having a heart attack!?"
That would be because I found out a year ago that I have INCREDIBLY high cholesterol. Like, try, 303. It shouldn't be over 200. Just sayin'.
Am I on cholesterol medicine? Well NO. I know, don't yell at me. I know. I tried two cholesterol medicines and both made me sick and both made me tingle and I couldn't stand it, so I quit. I've been trying to lower it with vitamins and eating better...which I can't say I'm successfully doing
all the time.
Okay, where was I?
The EMS man came up to me and was talking to me and for awhile I could barely even make out what he was saying.
He calmed me down, took my pulse (wholy crap it was high) and the determining factor to my health was my PERFECT blood pressure (THANK YOU LORD!).
Ladies, I had my first full blown anxiety attack.
NEVER in my life have I experienced anything like this.
EMS man told me he gets this call a million times a day because it really does feel like a heart attack. Except for the actual heart attack part. ;) THANK GOD. THANK GOD.
But really...it was so scary. I came home looking like a red lobster, and took a 20 minute nap. Woke up feeling like a champ! Haha.
We packed up, hit the road, made it to my Mom's house and had a wonderful Thanksgiving weekend. :) I was thankful for family, Drew, friends, downtime, food, and of course, the true meaning of LIFE. Regardless of how "testy" it's been with me lately. Just truly Thankful...

Isn't my Papaw the cutest haha.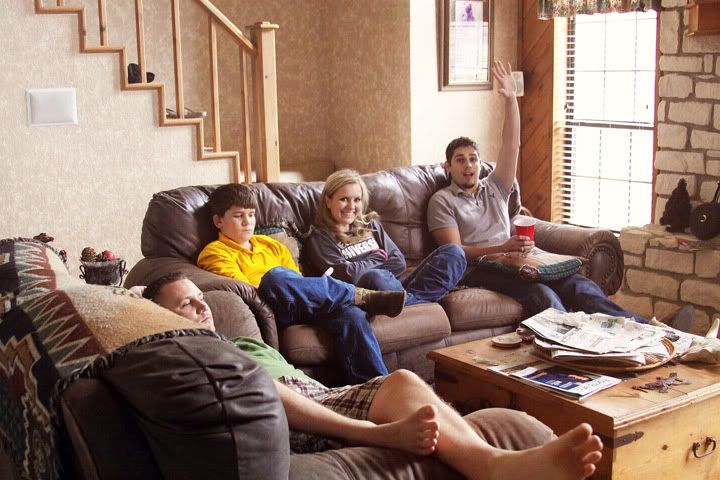 My melt your heart cute as a button, Mamaw.


Football. Ignore my nasty feet. I apologize to those of you with a foot fetish. Muahahaw.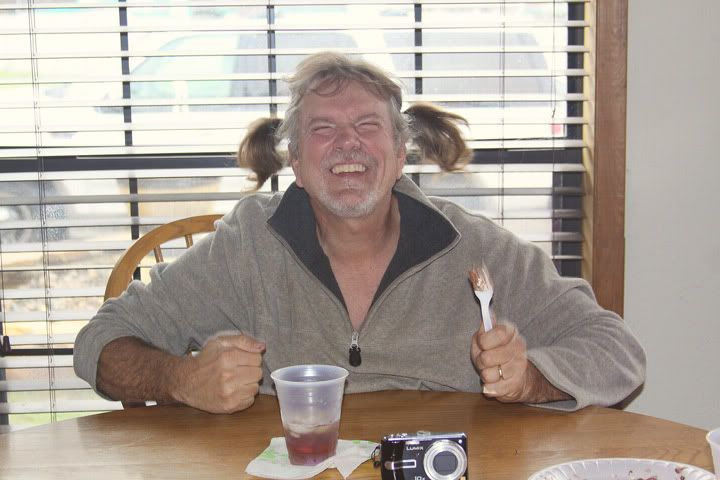 Now if this doesn't make you smile...haha. This would be my Uncle Larry. My Mom's brother. He's a retired Houston Police Officer. He grew his hair out because he can...and well, he'd thought it would be funny to wear pig tails all day and act like a little girl. Hysterical, I know.

I honestly feel slightly embarrassed about what happened to me. But I guess all the stress I've been under lately set it off when I was probably the least stressed (rapping in my car like a fool) than I have been in the past couple of weeks. Drew keeps joking with me and said it was the rap music that set it off. Ha. Rap music just fuels my soul y'all. Please sense the sarcasm.
Anyway, I don't plan on taking anxiety medicine simply because I'm stubborn and I HATE putting things into my body. However, I am curious to know if any of you have anxiety? Do y'all have an recommendations? Suggestions? I'm all ears.
XO!