I've been on pinterest for a couple of months now and yes, I share my love for it with the other 193018401823 people in this world. I'm really bad at actually pinning things, but still go on it to get inspired, etc. etc.

Enter the peach cobbler.

I am not a horrible cook, but I'm one of those cooks or bakers who sticks to the same thing over and over.

Last night I got the biggest compiment of my life from my hubs.

"This is the best thing you've ever made."

Sadly, I can't say it's some random recipe that I made up, or that I miraculously found.

Nope.

It's a peach cobbler recipe I found on Pinterest. It's made by Paula Dean. You know that lady makes some good shiz.

Y'all we went to TOWN on this peach cobbler. I highly, HIGHLYYYY recommend you make it. Do it exactly like she says to or it won't be the same.

It's amazeballs.

I do get the worst blog award for not taking pictures of it last night but my kitchen was a MESS and dirty dishes were everywhere. That, and just pure laziness.

HEAVEN. IN. MY. MOUTH.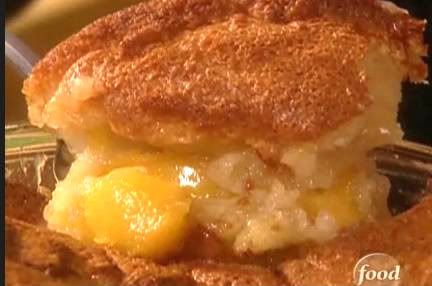 Peach Cobbler on the Food Network

Ingredients
4 cups peeled, sliced peaches
2 cups sugar, divided
1/2 cup water
8 tablespoons butter
1 1/2 cups self-rising flour
1 1/2 cups milk
Ground cinnamon, optional
Directions
Preheat oven to 350 degrees F.

Combine the peaches, 1 cup sugar, and water in a saucepan and mix well. Bring to a boil and simmer for 10 minutes. Remove from the heat.

Put the butter in a 3-quart baking dish and place in oven to melt.

Mix remaining 1 cup sugar, flour, and milk slowly to prevent clumping. Pour mixture over melted butter. Do not stir. Spoon fruit on top, gently pouring in syrup. Sprinkle top with ground cinnamon, if using. Batter will rise to top during baking. Bake for 30 to 45 minutes.

To serve, scoop onto a plate and serve with your choice of whipped cream or vanilla ice cream

Enjoy! :)