This was the motto of our weekend.

GO BLOG. OR. GO HOME. (Sabrina is a clever one I tell you.)

We went BIG Blog.

I can't believe I haven't blogged much lately!??? Life is so getting in the way. So much to do, so little time.

As most of you know...or SHOULD know...Sabrina and Erica came to Texas to visit me last weekend.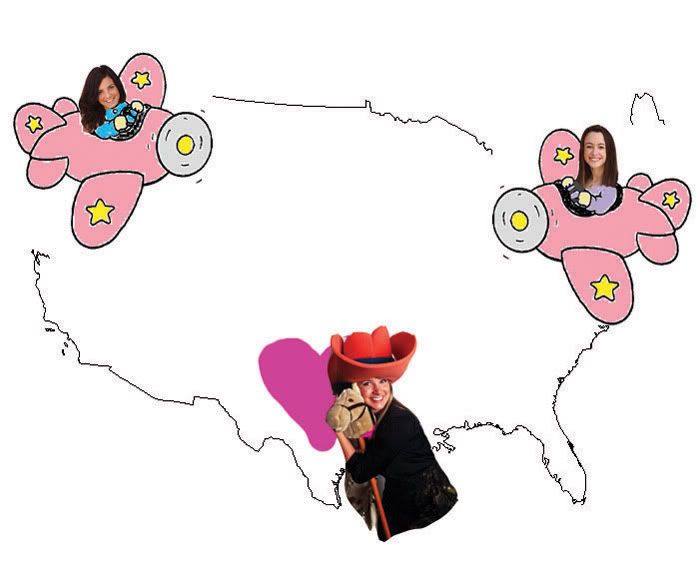 I cannot even begin to explain how MUCH I ADORE these ladies. They were SO much fun and I enjoyed every.minute.we.spent.together...whether that be hanging out on the couch, teasing our hair, strolling the aisles of H-E-B and dancing with a Sun Drop (for you Rissy, of course), eating, shopping, getting our waiter fired and of course getting crunk on 6th street.

This past weekend was amazing for so many reasons. Mostly because I made two blog friends turn into legit REAL LIFE friends. I feel blessed to have met them, and even more blessed that they chose my hometown to visit.

I miss them so much already and cannot wait until we meet again.

Alright, so I am probably about to let you down...

I pretty much, kind of...didn't take that many pictures! I KNOW!!!!!!!! I can't believe it either. WHAT THE HECK WAS I THINKING!? Oh...I wasn't. That's right. Please don't hate me.

I snapped alot of iphone pics and I took pictures of our last day together. But the rest of the time I was too occupied in just spending time with these two ladies. HOWEVER...Don't you worry. Erica and Sabrina took a lot of pictures so I am confident they will have amazing posts!

I suck. I know. I SUCK BIG ones right now.

So, let's talk about our weekend shall we?

On Thursday I worked for a bit, and then got off early so I could meet this lady at the airport. I was just a little nervous...okay, A LOT nervous. I stood at the terminal waiting for her to come down. As I stood there (looking like freakin' Waldo) and stood there and watched some crazy lady scream this little boys name over and over (must have been a long gap of being apart for these two)...It was then I saw a little red light from Sabrina's flip cam coming down the escalator. Then I saw a wave and big beautiful smile coming at me.

We hugged, and I instantly knew this was going to be a wonderful weekend!


Besides me getting lost (haha, so typical of me) we made it to my house where Andrew greeted us. Piper and Furlee did too... :) I had craft night with my babies and they wore shirts that said, "I LOVE SABRINA" and "I LOVE ERICA!"

We went and ate at Mighty Fine Burger and then went to the Halloween store and tried on silly hats and costumes because for a minute we thought it would be funny to pick up Erica in a gorilla and banana costume. (Sad to report that this did not happen). We then went to JoAnne's fabrics to get supplies to make a sign for Erica's arrival on Friday, and then ended up at Specs to get some refreshments.


We went back to the house and made sweatshirts that said, "Go Blog or Go Home." A quick little phrase Sabrina came up with and it stuck! :)

That evening we went to Baby Acapolcos' to meet with an old friend of Sabrina's. We had some ritas and then went over to her friend Jason's castle house to hang out. A little guitar hero was played, and I was the party pooper who fell asleep on the couch. We got home at about 3 that morning and crashed out.

On Friday, Sabrina and I headed to the airport to pick up Ms. Erica. We made her a sign that said, "HOWDY ERICA!" Hahaha. I know, we are so creative. Hahaha. Erica quickly got acquainted to the Texas heat and look who she met right out of the airport?


It was love at first sight.

We then went to Moonshine downtown to meet with Jenni.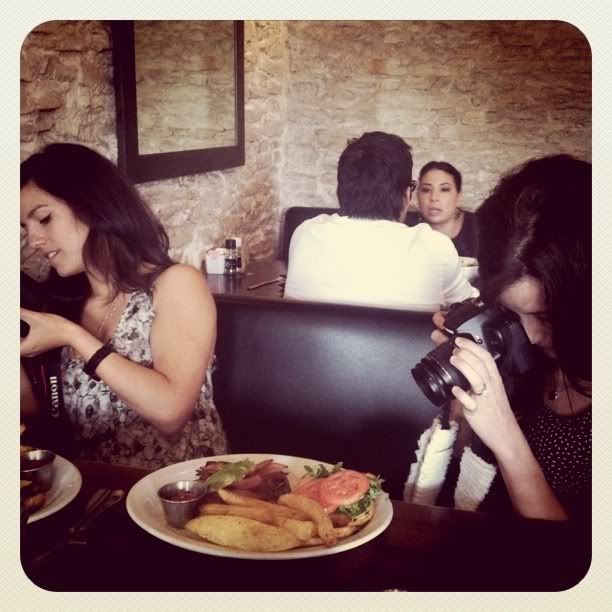 Go blog or go home.
Those purple margaritas didn't settle well with me at all...(I'm terrible at drinking) and wasn't feeling up to par at.all. I tried to hold it together but found myself laying on the bathroom floor...twice. The hostess was in the bathroom with me the first time and I literally just sat there with my hands in my face. She probably thought I was taking a big fat shoo shoo or something. But no, I was doing something even worse...I was laying on the bathroom floor with my eyes closed. I had a migraine that made me want to cry AND the worst part? I didn't even get drunk the night before. My body just sucks and hates alcohol period. I swear I'm allergic.

I took some medicine and started feeling better immediately. Especially when I saw some fries :) Mmmmm get in muh belly.


We took pictures outside...well, everyone BUT me and so here are a few I stole from Jenni's blog.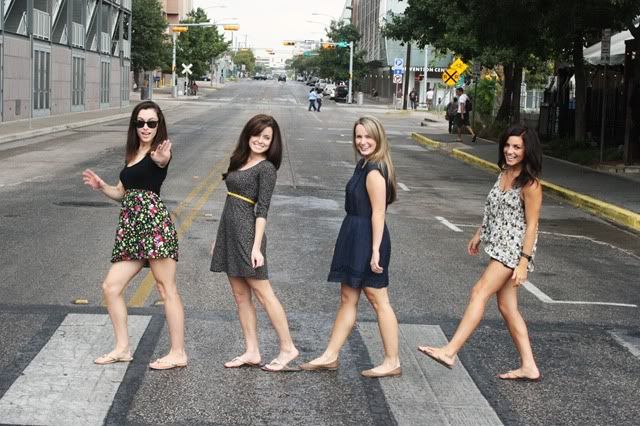 After we had our blate, we went to South Congress and walked around. We went to Hey Cupcake for a cupcake, went to yet another Halloween store where some cranky employee told us we couldn't take pictures. Um, good thing Sabrina rocked out some turtle spins like Jenna Marbles on the flip cam. We then went to Trader Joe's for some coffee and chit chatted a little bit about how much we love each other, boys, how much we wish Ashley, Rissy, and Raven would have came, and Lord knows what else. THEN we did a little more shopping and a little picture taking.

We were feeling a little tired, so what's the next best thing to do?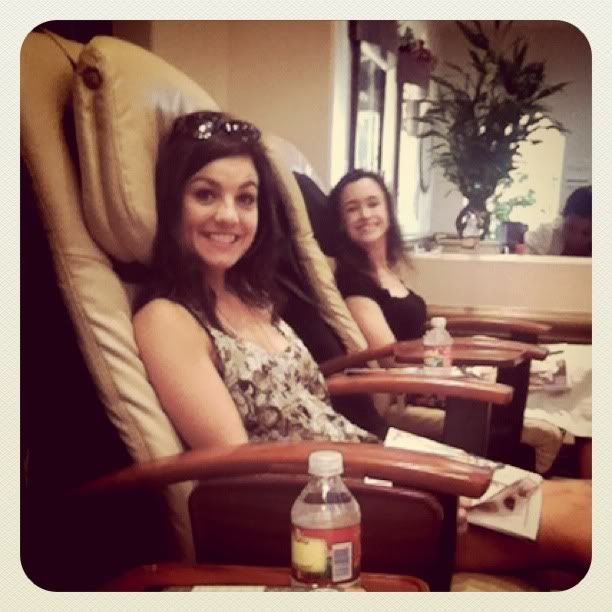 Pedicures.

Besides the lady cutting off cutting Sabrina's toe, it was super relaxing. I really enjoyed seeing the massage chairs make their bodies shake haha. My neck fat and boobs were out of control. Good times.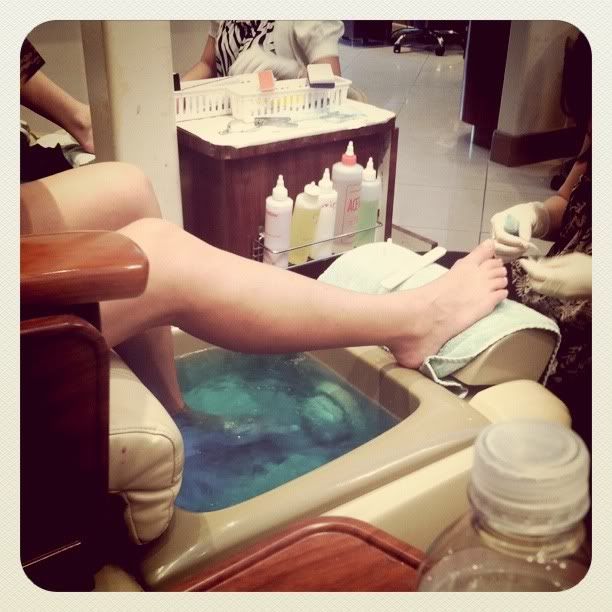 THEN we went to H-E-B to get energy drinks...but found ourselves dancing like hooligans in the aisles of H-E-B to Drop It Like It's Hot.

Erica had her first EVER Dr. Pepper...and SHE LIKED IT! Well, duh. It's the best drink hands down. I'm still amazed how she's gone her whole life without this drug.



We then went home and chillaxed on the couch and chatted/napped a little while. We couldn't decide what we wanted to do that evening, and we didn't know what food sounded good...so, we ended up giving ourselves big Texas hair. You know that saying, "The bigger the hair, the closer to God?" Yep. Did that. Put on blue eye shadow and lipstick. We looked sooo hot.

We sported our poofy hair, our highlighter yellow blogger jackets, and headed to Dave and Busters.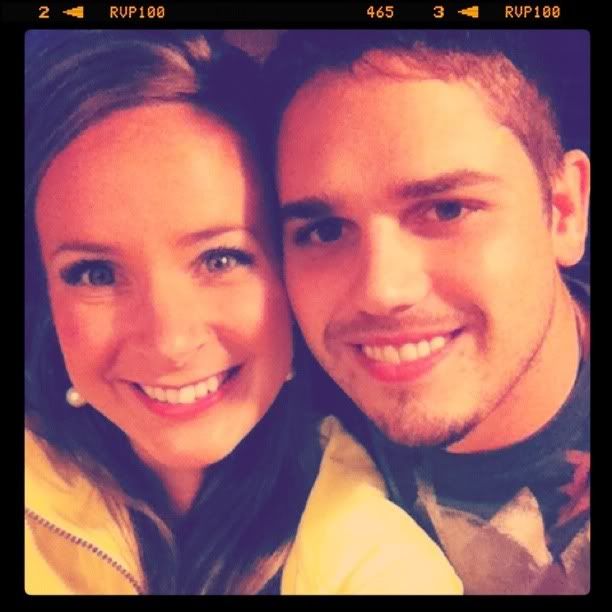 Oh. This guy takes Dance Dance Revolution VERY serious. He brought a towel and gym bag too. Cracked us up.