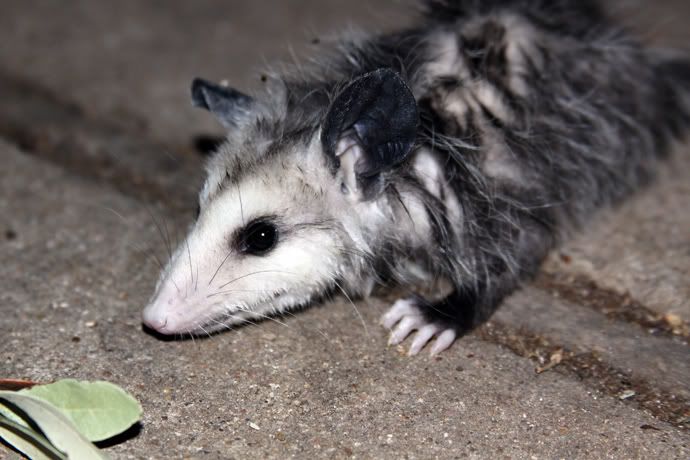 That's right. A baby possum.
I'm sure if you follow me on Twitter, or if you're friends with me on facebook you already know about this little encounter.
Last night, I was upstairs on the computer and Andrew was downstairs. I heard him let the dogs outside to potty and I heard a lot of barking. Next thing I know, Andrew is screaming my name so I run downstairs as fast as I can thinking something had happened to one of my dogs.
"What's wrong!? What happened!?"
He stood there with a white towel and this disgusted and surprised look all over his face.
"What!?!?!?"
"Come here. You want to see something gross honey!?"
"What what what!?!?"
We make our way to our driveway and I see a tail and little legs sticking out the side of the towel.
Andrew says, "So, I was about to go to the bathroom, I raised the seat, and a rat was sitting there in the water."
"A WHAAAAAAAAAAT!?"
"Is he dead? Did you kill it!? Don't kill it, just let it run away."
Andrew opens the towel, and to our surprise, a baby possum stood there...well, playing possum.
I ran upstairs to grab my camera and took a picture of the little guy.
I wanted to take him into our backyard so his Mom could find him but he ran under my car and wouldn't come out.
Now the question that everyone, including myself is asking...
HOW THE HECK DID IT GET IN OUR TOILET!?!?!?!?!?!?!?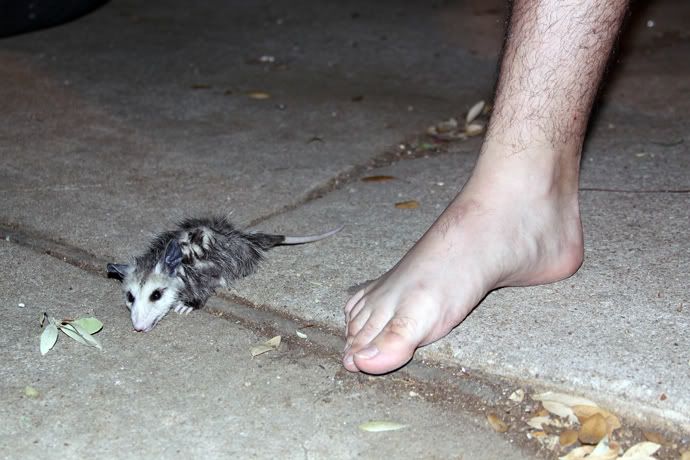 I named him Harry Potter.
Get it? Hahahahahahaha. I'm so clever.