This week has been rewarding, hectic, exhausting, fun, and awesome.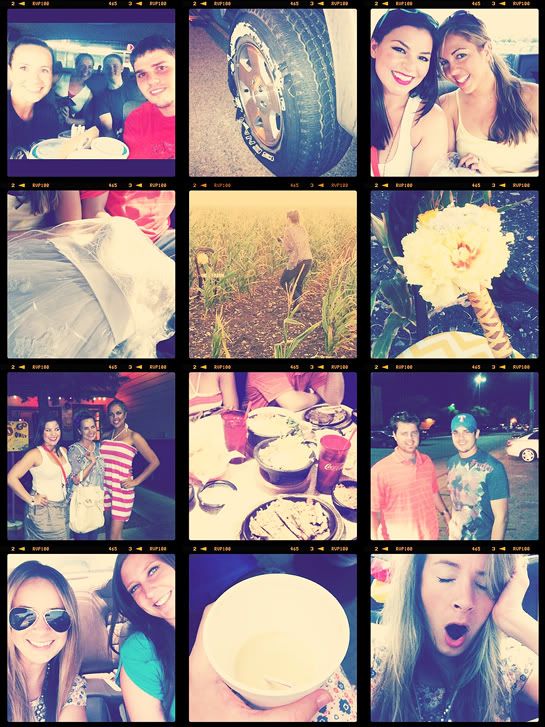 Monday
Worked 8-5, started to drive home (mind you it's 100 degrees out and I have NO air conditioner in my car) and realize I need to pick up a wedding dress for the styled shoot. I turn around. I'm stuck in traffic for 30 minutes. Did I mention it was 100 degrees!? :) Get dress. Come home drenched in sweat. Make dinner. Edit pictures.

Tuesday
Worked 8-5. Come home and start to clean my house. Headed to Marshall's to pick up an item I had on layaway for the styled shoot. Brother texts and can't make the game. Pick up our friend Brian. Go to softball game. Brian sprains his ankle. Brian scratches up leg REALLY bad when sliding. Hubs hits two homeruns. We win Softball game. Sonic date with our friends Madi and Brian on the way home. DUN POP PUT DUN PLUT DUN DUN POP DUN PPPP DUN (<---that's supposed to be a flat tire sound). Low and behold. Flat tire at 10:45 at night. Eighteen wheelers blazing past us like we didn't exist and honking like crazy. Replace what's supposed to be "the best tire" on Andrew's truck. Awesome. Which means we will be replacing his other tires very soon. $$$. My tires too. $$$. Did I mention our vacation is in two weeks? Awesome. Finish cleaning house for guests on Wednesday until 2:00 in the morning. (It was a WRECK!)

Wednesday
Left phone at home. Awesome. Worked 8-3 (I took off two hours early). Come home and pick up morning "mess" while cleaning my camera cards and charge my battery. Run to H-E-B to pick up last minute "thoughts" for the shoot. Make-up artist (& friend) shows up at 4. Model (& friend) shows up at 4:15. We chat. A lot. We try on dress that I picked up on Monday. Doesn't fit. Size 6 my A$$. Freak out. Losing daylight. Have model try on my wedding dress. It fits? We decide that the bridal store needed to have their dress in shoot. It's 4:45. Bridal store closes at 5. We take off to the shop downtown. Make it there JUST in time. Run around store frantically looking for a size 6. Find a size 4. It fits! (Stupid wedding dress sizes). Drive back to the house. Make-up starts. I do the hair (I am proud of myself :)) and we pack up the truck, husbands in tow. We get to the shoot...AND that will be coming soon! We finish at 9. Awesome time. I'm exhausted. We come back to house and unload. Go eat at Chuy's at 10. Catch up with friends (the model and make-up artist). Get home at 11:15. Download and save pictures to TWO hard-drives JUST IN CASE. Take shower. In bed by 1:30.

Thursday
Dress up day at work. Work 8-5. Didn't wake up until 7:30. (SO TIRED!?) Consume lots of coffee. Busy day at work. Lunch date with Kelly. Took headshots of people at my marketing company for website. Gas light is on. Dangit. Stop at the most inconvenient gas station EVER. I realize a man is staring up my dress as I sit in my driver's seat and get off the phone so I can get gas. Violated. Pump gas. See CASHIER. Really? Ugh. Go inside. Card charged twice. Long line. Cranky customers. It was awesome. NOT. Drive home. BLOGGING THIS RIGHT NEEEEOW. Hubs is helping his sister pick up a table. Ants are all over the kitchen and no food in sight? Weird.

Next:
EDITING PICTURES ALLLLLLLLL NIGHT. I HAVE SO SO SO SO SO SO many to work on. Eat. Shower. Sleep...I hope.

Friday
Work 8-5. I'm the only one going to be at work tomorrow on my team = BUSY day. Go home. Pack even though I should do it tonight but I don't have time. Brian and Madi are coming over. Headed to College Station to celebrate friend's birthday. Sleep...I hope.

Saturday
Coming home in the morning. Meeting up with the in-laws who are coming into town. Visit with them. Getting house looked at for crack in the wall. :| Hopefully getting a quote on my car for the AC. Photo shoot at 6:30.

Sunday
Church and lunch with in-laws. EDIT. EDIT. EDIT.

I'm literally holding on to my head for dear life it's spinning so fast.

Also, thank you to EVERYONE who commented on my last post! You guys are THE BEST!!!!!!!!! Thank you! Thank you! Thank you!!!!!

Kees. Kees.