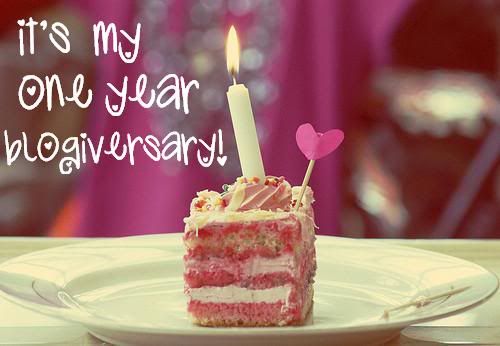 That's riiiight. ONE year ago today, I started this blog. It's kind of weird that I actually didn't just do a post, or two and forget all about it. I'm really bad at starting something and then getting tired of it 4 seconds later.
You know...like, a relationship with a cat. You love it when it's a kitten, but as soon as it actually turns into a cat, you neglect it just a little more, right?
Well, this def. is not the case. I enjoy being here, and I enjoy sharing my life with y'all who care enough to read. You are all so, SO amazing. Seriously! I do believe the reason this has been a fun place to document random happenings in my life is because of YOU guys! Your comments, love and support have been refreshing and uplifting. I can't thank you enough!
I never knew what an impact blogworld would have on me. I love that some of you have become real life "texting" friends and facebook friends. You are all the most inspiring group of women (&men?) I've ever met. Thank y'all soooo much for being here and reading these "diaries" of mine.
I want to make this a better blog. I do. For me, for you, for whatever that reason may be. I have held back a little just for the sake of privacy, but I think I may open up a little more...and that scares me a ton. There will be a few (good) changes coming VERY soon so be ready freddy.
What do people do to celebrate Blogiversary's? I mean, it's a BIG deal right?
I suppose I can do a little giveaway.
I've never done one, so I want to make sure it's good. Like, REALLY good.
I'm going to compile a package of my top 10 favorite things.
I will disclose what I'm giving away when I get back from my vacation but I assure you, it will be GOOOOOOOOOOOOOOOOOOOOOD.
So, be checking back. You won't want to miss it.