Today was my annual lady Dr. visit and I know what you are probably thinking...WHY are you sharing this? Well, you see...I wasn't going to because honestly, who really wants to know that? Who really cares, right?

Well, listen to this.

My Dr. is a really nice man and cares about his patients. He makes the awkward visit more comfortable for you and makes jokes, strikes up converstation, etc. etc. (I'm almost scared he will google me and read this...he has a facebook page and all that jazz. And Doc, if you are reading this, I'm not mad at you.)

We were talking about what I've been up to lately (jobs, life in general) and really, I was just ready to get this whole thing over with.

Dr.: "Wait a minute...Did you just get your hair done?"
Me: "Umm, yeah? Kinda. I guess it was about two weeks ago."
Dr.: "But is it a different color blonde?"
Me: "Ummm, I guess? I don't know...I told her whitish blonde highlights..."
Dr.: "Yeah! It's a different blonde."
Me: "Okay...Is that a bad thing?"
Dr.: "Well, yeah! I liked it the old color. This color makes you look older. (Points to my face) Your face is young, but your hair color is whitish and it makes you look older."
Me: "Hmmm...Okay?"

I mean, what was I supposed to say?

Let me rewind a bit. When he first came into the room just to chat, he and I were talking about something non-appointment related and my weight came up. I hate when it is time to step on the scale. My eyes pretty much popped out of my head when she told me the number. Shall I dare tell y'all? Shoot...Okay, I will tell. I've gained 12 pounds since last year!!!



Seriously Google!? I just googled "Muffin Top" and this was one of the first results. That's just mean.

Yes, I did eat a cupcake and Chick-fil-A today...and I did just drink two really tall glasses of water...but OMG. It was not something I wanted to see or hear. Talk about a button popper on yo pants dude.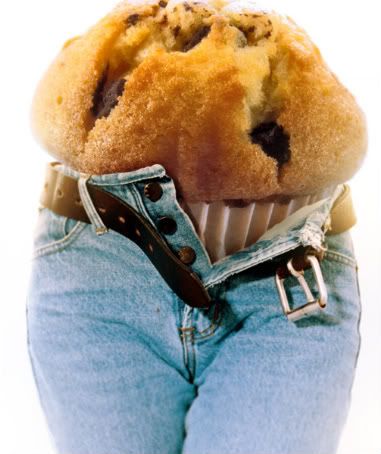 Much better Google. Thank you.

I said something about gaining weight, and being tired and he said, "Do you work out?"

Me: Well, I do, but I haven't lately. I really haven't had the time or energy...I know that isn't an excuse, but it is true. I need to start back up.
Dr.: "There is always time..."
Me: "I know, but I'm tired, and I haven't had the energy in awhile. I will start again soon."
Dr.: "What time do you have to be at work?"
Me: "8:00."
Dr.: "See, there! You have time! Just get up early and get your work out in."
Me: "Yeah, I want to do that. I just don't go to bed until late most nights because I'm working on pictures, or something...I am not a morning person. I will find a way somehow though. It's just been a couple of rough weeks.
Dr.: "Okay, good."

Hmmmm...

I really like my Dr. but...somehow he found a way to tell me my hair made me look older, and that I clearly had gained weight and needed to work out.

Thanks... I guess.

I honestly don't think his intention was to hurt my feelings. I really don't.

I hate being an emotional girl sometimes. Do you think I have a right to be a little sad about this? :(
: