I normally don't post on days when I'm moody, vulnerable, or sad. I don't like being negative, and let me be honest, NOBODY likes a debby downer.

Well, you are in for a real "treat" today.

I'm super sad. Really, really sad. I've cried atleast 5 times today, and all I want to do is just go home and sleep.

You know that phrase, "When it rains, it pours!?" Well, there is a hurricane going on in my life right now...and no, I'm not being dramatic. I WILL not mention everything that is going on in my life, because believe it or not, I am private about some things. And no, it has nothing to do with my marriage. My marriage is without a doubt, hands down, THE BIGGEST BLESSING IN MY LIFE. Without my husband, I honestly don't know where I'd be. He's my rock.

Here are a few things that have me down right now... Why I'm sharing? I have no idea. I may decide to take this post down, but right now just typing it out makes me feel better. I'm just bawling my eyes out, feeling helpess, and just not sure what to do.

First things first...Student Loans. They can bite me. Go away! Sometimes I almost feel like going to college was a complete waste of time. It's not like it's really paid off yet. Seriously. Where is all this money & success that they promise you you will make if you have that degree? :( Not here that is for sure.

Even working 4 jobs isn't helping. Just adding more stress. :(

Second, my compressor in my car went out. That's going to be over a grand. Oh, and JUST in time for the hot Texas Summer.

Third, my car needs new tires and Andrew's truck REALLY needs new tires...to the point that you can see the WIRE popping out. Oh yes. I'm predicting a blow out real soon if we can't figure this out.

Fourth, I woke up with a toothache yesterday...called my dentist, and got an appointment for this morning only to find out that I need THREE root canals and THREE crowns. It sucks. Before you start scrunching up your nose and thinking, "GROSS!? Does she brush her teeth!?"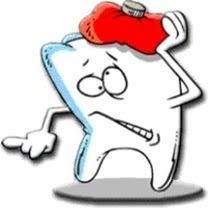 YES, I do brush my teeth. Two to three times a day. I floss about twice a week (I know, NOT twice a day...but who does that!?) I DO TAKE CARE OF MY TEETH. I was just BLESSED with really really reallllyyyyyy bad teeth genes. So, $4200 later...this isn't including the other fillings I need in other teeth either. Just the root canals and crowns. I could just cry.

There are other things that I will not share, just for the sake of privacy, but I will sum it up and just say, WHY CAN'T MONEY GROW ON TREES!?!?!?!?

I'm stressed. I'm tired. I'm about to sell everything I own.

We don't borrow money, and we don't ask for money. We don't like handouts. We would rather be broke than ask. Everything we have is what we have purchased. We have worked for what we have, and nobody has given anything to us. When we got married, we decided to do it ALL on our own. EVEN if that means eating Top Ramen 4 nights a week, and going on a 15 dollar date at Casa Ole, and sharing a plate. That's what we do. We make it work, and we just remind ourselves that we'd rather be POOR and IN LOVE, than RICH and UNHAPPY. I know it will get better. I know it will. It's just discouraging when you work so hard, and you sink further in the hole.

This is a pretty honest post, I know. I'm not asking for sympathy, I'm not. I just need prayers.

And before someone wants to tell me that it could be A WHOLE lot worse, I know this already. No need in reminding me. It really could be, and I remind myself of that ALL the time. I could be homeless. I could be without my husband. I could be in Japan right now and GOD we ALL know that they need all the help and prayers in the world that they can get. I could be battling cancer. I could have just lost a loved one.


I DO KNOW THAT IT COULD BE SO MUCH WORSE, and it puts a lot into perspective for me. I feel bad complaining about these "small" problems I do.

It's just hard to live in a society when it's all based off who has the better life, ya know? I feel like people compete all the time. Not necessarily with me, or anything, but it almost feels like people want to flaunt everything they have. How are these people taking a vacation every month? How do you have a brand new house, a brand new car, X amount of kids, no job, brand new this, brand new that, flying all over the country, and actually being able to afford it? I just don't get it. I don't know if I ever will.

I haven't got my hair done in months. I see people with new clothes, manicures, pedicures, treating themselves to a really expensive dinner out, new this, and new that...and here I am...I haven't been SERIOUS shopping since we have been married. I haven't cut my hair in about 6 months, and I'm sporting three inch roots here y'all! I might need to go brunette haha. I look BAD.(NOT IMPORTANT, I KNOW!) I shop at the dollar store for detergents, and house items. I use coupons. We don't even have a kid yet, and we are doing without all those material items that you want so so so so bad, but you just can't do it yet. Sometimes it is just a struggle to keep our head above water. I know I'm only talking about materialistic things, but believe me, there is more to this than I'm sharing. Privacy remember? Even though it may not sound this way, I assure you this is just an inkling of my life. ;)

I have some nice things, of course, but I really do do without a lot too.

My hubs and I have learned how to sacrafice our wants for our needs. I think I might start doing a weekly post or something to help those couples out there in our boat that need help finding things to do together, but on a budget. We have become quite the masters at this haha. Hey, you gotta do what you gotta do! :)

Let me clear this up for you though...before I start getting attacked for feeling this way...I never EVER compare my life to anyone. I swear I'm not a spoiled brat. I've learned that if you do that, you will always be let down and wanting more. There is always someone out there that does have it better, but you know what? There is always someone out there who has it SO much worse. I THANK GOD EVERY DAY FOR WHAT I HAVE!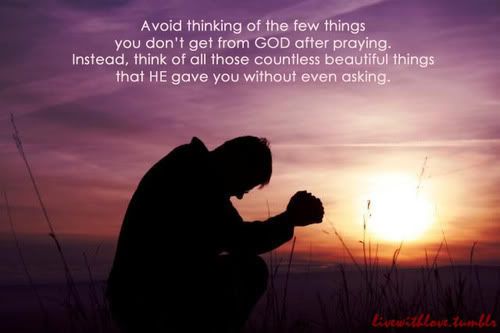 My husband and I talk about the "What If" scenario a lot. What if your house burns down? Our answer is always, "As long as we are out and safe, and have each other, that's all that matters." And you know, that really is all that matters. I'm tearing up just thinking how much I truly love my husband. I'm not trying to be super corny y'all...I know it sounds that way. But he is seriously my best friend in the whole world. We laugh together (not this week haha), we cry together, and we pray together.

I'm VERY thankful for so many blessings in my life. I'm just having a bad week, and feeling low. I know that God will pull me through this. I'm not perfect, and I don't want my life to come off all butterflies and gumdrops. I struggle. I do.

Just praying it gets better. That's all.

Thank you for reading if you made it this far. I just needed to write this for me, and you know what I feel a whole lot better. But I probably won't ever do a post like this again...haha.

Next time I'm just going to do handstands in this storm.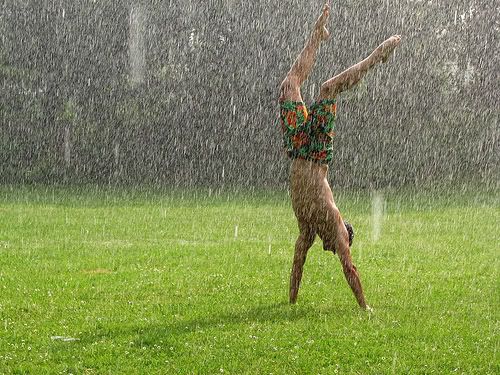 .