TGIF is a complete understatement. Even though I had Monday off for my birthday, I still feel like this week was stuck in big fat TURTLE speed.
Anyway, as you may have noticed, my blog is currently BORINGGGG and under construction. I got tired of my header, and when I attempted to change it, the quality of the picture was poop-licious. Now it will be like this until I can find time to change it. Please bare with me my lovies.
This weekend is another busy one. My hot mama is coming in to visit and I have about 100 things going on. Last night we sanded our cabinets in our kitchen and wowwwww...can I just say that it hurts to type today? If my body got as much exercise as my hands did last night, I would be dead sexy. That's all I have to say!
Here is a little sneaky peaky of Night #1 of the kitchen demolition.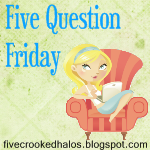 1. Where did you meet your spouse and did you instantly know it was love? I met my hubby through a mutual friend. You can read all about it
here
. I pretty much was infatuated to the 10000000th degree before I even met him, and then after the first date I pretty much knew this was it. It was unreal. I remember driving home and calling my Mom. My Mom asked me if he was the one (not really being serious) and I remember saying, "You know Mom...this may sound really crazy, but I really think he is. I can't explain it!"
2. What is your favorite room in your house? I am going to have to go with my bedroom. It's one of the most completed rooms in our house, and I LOVE my bed. I never want to get out once I get in! My best friend says it looks like a "model room" you would see in an open house or something. We painted the walls dark gray, and it almost feels spa like. I love it!
3. Can you wiggle your ears? LOL, I literally just tried and I failed with flying colors. So, NO, I can't all you gifted wiggly eared people! ;) BUT I can bend my thumb all the way back to my wrist! What now suckas!? ;)
4. What is your evening ritual?
It varies nowadays, but on a "normal" night, it would be to come home, hug/kiss hubs, plan out what we want for dinner, watch tv or run errands (lowes or grocery shopping), eat, computer time (pics, facebook, blog), watch more tv, get ready for bed, sleeeeeeeeeeeeep.
5. How many hours of sleep do you need to function? I have made it with none before (back in college), but realistically, I need 7-8. I love to sleep. I take back all those days back in Pre-K when I hated nap time. What was I thinking!?