Hey guys! So sorry for my lack of blogging! It's been cur-razy I tell ya! :)
I hope you all had a great weekend! I sure did :) We went to College Station on Friday night and had dinner with our friends, and then went to Northgate (the bar scene of the town). It was a lot of fun, and it felt good to be back in our old stompin' grounds :) Saturday we went to my cousins wedding, and then hung out at my Aunt and Uncle's house that evening. Sunday, I was supposed to go to another cousin of mine's wedding shower, but I didn't feel well at all, so I layed around at my Mom's house, and she cooked her UH-may-ZING homemade chicken and dumplings. I crave them all the time, even when it's over 100 degrees outside :) Still feeling a little 'icky' today, but I'm taking some antibiotics, so hopefully I'll be 100% in no time. I guess goin'-goin' all the time is catching up with me.
Here are some pics from the weekend:
My friend Hilary and me at dinner :)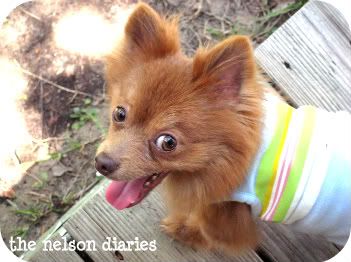 Piper smiling for me :)
Hubs and I after my cousin's wedding.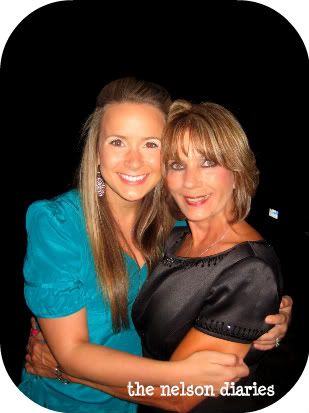 My sweet Hott Mama and me :)
Okay, it's Misc. Monday! :)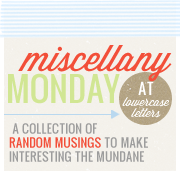 1. SO, I was summoned to JURY DUTY today! Haha, man, it sure has been A LONG day! Showed up at 8, waited, and waited, and waiiiiited. Listened, and waited. FINALLY, they got down to business. After all the narrowing down with exempt, disqualified, and hardshipped people, the room went from over 300 to about 140. I was sure they would pick me. They called 60 people for the first group, who were actually excused until 9 tomorrow morning. They didn't call my name in the first group, THANK goodness! Then the second group of 60 people were called. AND, my name was called. They released us for about a 2 hour lunch, and had to report back at 1:15 for the selection process. I waited, and waiiiiiiiiiited, and finally I went in to be interviewed. I tried to sound opinionated so I wouldn't get selected, and then the group got narrowed down again. Was I chosen again? Why, of course! LOL, but thankfully, after the last round, I was let go by the hair on my chinny-chin chin. I'm so happy because my boss is going to be in San Fran this week, and I am in charge of training our new employee. If I would have been chosen, they said the trial would have been anywhere from 3 to 5 days, or longer. That would have been NO buenoooo. Glad that's over and done with! :)
2. As most of you probably know, THE BACHELORETTE FINALE IS ON TONIGHT! YAY! I can't waiittttt! I don't know which I'm looking forward to more...this finale, or The Bachelor Pad's premier next week! :)
3. 20 dayssss til' my cruise! I can do this! I CAN do this! :)
4. Looks like hubs is going to start breaking up the old white tile tonight in the laundry room, connecting hallway, and half bath downstairs. It's going to be loud & dusty. I'm not looking forward to the process...but I can't wait for the end result! :)
5. I FINALLY finished Twilight! LOL! I am so behind with the trend, I know. I honestly liked the book better, but I think the movie helped me put faces with the characters, so maybe that's why I liked it more? Regardless, I am so excited I finished! (Thank you jury duty!) :) It's time to pull New Moon from my bed-side drawer. :)
Happy Monday everyone! 1 day down, and 4 to go! :)