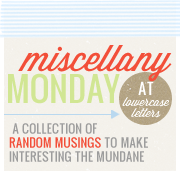 1.Monday is almost over, thank goodness! That means I only have one more Monday to survive until V-A-C-A-Y! Only, I was just watching the news, and supposedly there is a tropical storm forming in the Gulf. It better hurry it's self up REAL fast, because I will be REALLY bummed if it ruins my cruise. Keep your fingers crossed pleeeeeeeeeeeeeease!? :)
2. I don't have acne. Nor, do I have A LOT of breakouts, but I am female and DO get the occasional breakout that drives me nuts. I find my face to be dry some days, and oily other days. I've been trying to find a moisturizer that doesn't break out your skin, and that doesn't leave your skin oily. Any suggestions!? I've tried Clinique's Dramatically Moisturizing Lotion, and I'm just not a fan.
3. I just watched BACHELOR PAD! :) :) :) Drama, drama, drama! Elizabeth...girl, you need to just calm down. She is already starting a mess. Needless to say, I am SO glad that Michelle is GONE and Juan too! Those two are badddd news. I couldn't help but crack up when the Weatherman said, "You can't put a rose on a straight jacket!" OMG that was too freakin' funny. I already can't wait for next weeks episode! :) Team Tenley all the way :)
4. Grocery shopping. Don't ever go when you are hungry...I seem to always do this, and all the gut busting, high calorie, greasy, chocolate, diet breaking, stomach loving, heart wrenching, mouth watering JUNK FOOD will find it's way to your pantry. Ugh. You win some (calories). You lose some (obviously, NOT weight). Ha!
5. I need to know if I'm the only one out there who does this. I am guilty of this, I am. Some find it funny, some find it ridiculous. Okay, okay...I have a "dog" voice. LOL. Does anyone else have one? I ALWAYS find myself doing the "Piper" voice. Am I just weird? Eh, probably so...But that's okay with me :)
6. Speaking of dogs, Piper and Furlee's cousin is coming over and staying with us the rest of the week. (My sister-in-law's dog Rusty!) So, looks like I will have a house FULL of dogs. This is going to be interesting lol...& fun!
Okay, so this post kind of stunk. I'm sorry. If you want to laugh, go to the post below and check out my husband's fishy dance. I think it's hilarious...but then again, I am his wife. Everything he does I think is adorable.
Peace and hair greaseeee loves!