Happy Mondayyyy! I can't say that it was easy getting up this morning. The Monday you return to work after vacation SUCKS. Plain and simple. The only thing my brain keeps repeating this morning is, "I need a vacation." Haha, I'm serious. Wishful thinking :)
Here are pictures from Day 2 of our Cruise. It was just a day at sea, so we did a lot of NOTHING and it was GRRREAT! :)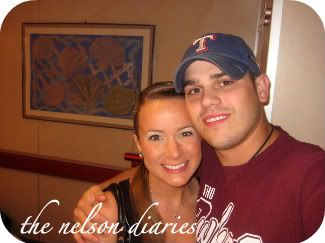 All rested and ready for a fun day at sea :)
Oh yeahhh.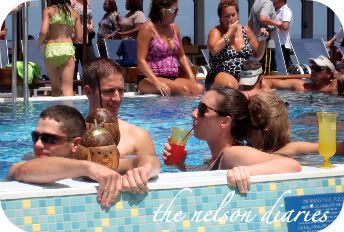 :) The gang enjoying the pool.
What a lovely bunch of coconuts :)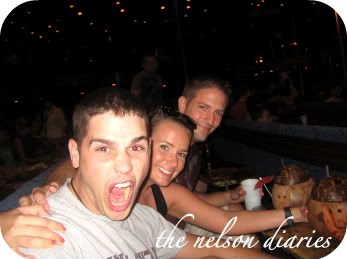 Playing BINGO. Hubs was just a little TOO excited. :)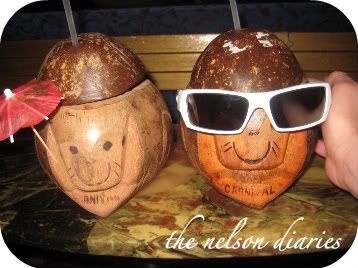 Me & Drew :)
Ready for dinner!
Drew, Me, and Will :)
Tomorrow I will post about Day 3: Progreso :)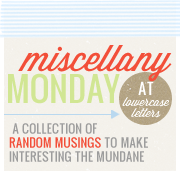 1. Shampoo & Conditioner. I am in NEED of a new shampoo & conditioner. Right now I'm using Redken products, but I really want to switch. I'm thinking Pureology, or Bed Head, but I just don't know. Does anyone have an AMAZING shampoo and conditioner that they absolutely LOVE!?
2. Don't Waste Your Money! Yesterday hubs and I went on a double date with my brother and his girlfriend. We went to see The Last Exorcism. Please, please do not waste your money. I can't promise I watched the whole thing ;) but, overall I was disappointed.
3.P90X. Hubs and I are thinking about investing in this program...my brother and his girlfriend are currently doing it and you can see a BIG difference! Has anyone else tried this? I hear its really hard, but SO worth it! Any feedback will be much appreciated! :)
4.Bachelor Pad. Tonight. Nuff said.
5. Half Marathon. Oh yes. Ohhh no. Oh, YIKES! I am about to start my training for a half marathon. I think I have gone crazy. I actually started to train last year, but I got lazy after Christmas. I am determined more than ever to do it this time :)
6.Arttie. I stumbled across this store recently, and OMG I am in LOVEEEE!
Have an awesome day :)