I FINALLY BOUGHT SOME TOMS! I've been waiting, and contemplating, and finally just DID IT! :)
I don't know if you remember my post from a week or two ago about wanting some Toms. I had picked out about 5 pair that I loved, and a few of you shared your opinions (thank you again) but I wanted to see them in person and try them on first.
My friend and my sister-in-law had told me that they had some at Whole Foods, and luckily there is one right down the street from my job. Today, on my lunch break, my friend Kelly and I headed over there. Sadly, they didn't have any of the shoes in the colors that I wanted. They did have red, but not in my size.
Sadly, their selection wasn't as big as I heard it was either. However, I tried on a pair of black ones in my size, and kept going back and forth on if I should get them or not. Most of the black ones I see are worn by guys. I mean, they'd go with anything, and I wear a lot of black. But, my heart just wasn't set on them.
As I was about to leave, I thought, "Well, I'll just go with my gut and get a pair of the ones I picked online." I knew what size I needed now, and they are SO ridiculously and incredibly comfortable. Trust me!
THEN I saw these at the very back of the rack, hidden, and to my surprise, they were MY SIZE! :)
I purchased them :) BUT I am still not 100% sure if I LOVE the color/design.
Should I keep? Or should I return and get another color online? I honestly don't know why I am so indecisive...
HELP! :) :) :) (Please?) :) :) :)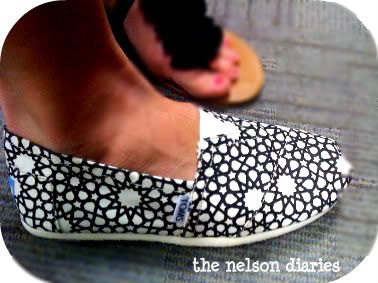 (I tried to blur out the nasty floor at my work...lol)