Top 2 Summer Recipes! :)
I will admit, I'm not the BEST cook in the world, but I'm not that bad either. :) I'm learning and trying new recipes all the time, and so far, hubs is a happy camper :)
My Mamaw makes the best Taco Salad in the world...I know it's a pretty common recipe', but I did not know this as a little girl. She would always take this to church on Sunday's and I couldn't WAIT to gobble it up! :) So, needless to say, I asked her for the recipe and now I make it almost every other week. It's cheap, and it's super easy to make. (Some may know this as Catalina Taco Salad)...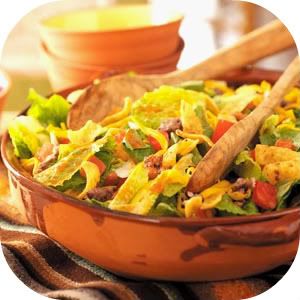 Mamaw's Taco Salad
Ingredients
1-1/2 pounds lean ground beef or
turkey
(90% lean)
3 cups (12 ounces) shredded cheddar cheese
1 can (15 ounces) ranch style beans, rinsed and drained
2 medium tomatoes, seeded and chopped
1 large onion, chopped
1 bunch romaine, torn
1 package (12 ounces) corn chips
1 bottle (24 ounces) Catalina salad dressing (I use Fat Free)
Directions
In a large skillet, cook beef or turkey over medium heat until no longer pink; drain. Transfer to a large serving bowl.
Add the cheese, beans, tomatoes, onion, romaine and corn chips. Drizzle with dressing; gently toss to coat.
*For extra flavor, I sometimes will use Taco Seasoning with my meat or I'll sprinkle salt and pepper on top of the salad for that extra "zing"*
Yield: 12 servings.
The next recipe I highly recommend would be Stuffed Peppers. My sister-in-law made these one time, and they were SOOO good. She actually substituted the meat for rice, and other veggies. I haven't tried turkey meat yet, but the thing about this recipe is that you can take out and add as many things as you would like... :)She found this recipe on CookingLight.com.
Stuffed Peppers
Time:45 min.
Ingredients
1 (3 1/2-ounce) bag boil-in-bag long-grain rice
4 medium red bell peppers
3/4 pound ground beef or turkey
1 cup chopped onion
1/2 cup chopped fresh parsley
1 teaspoon paprika
1/2 teaspoon salt
1/8 teaspoon ground allspice
2 cups bottled tomato-and-basil pasta sauce (such as Classico), divided
1/2 cup(2 ounces) grated fresh Parmesan cheese
1/2 cup dry red wine
Cooking spray
Preparation
Preheat oven to 450°.
Cook rice according to package directions, omitting salt and fat. Set aside.
While rice cooks, cut tops off bell peppers; reserve tops. Discard seeds and membranes. Place peppers, cut sides down, in an 8-inch square baking dish; cover with plastic wrap. Microwave at high 2 minutes or until peppers are crisp-tender. Cool.
Heat a large nonstick skillet over medium-high heat. Add beef and the next 5 ingredients (beef through allspice); cook 4 minutes or until beef is lightly browned, stirring to crumble. Remove from heat. Add rice, 1/2 cup pasta sauce, and cheese to beef mixture, stirring to combine.
While beef cooks, combine 1 1/2 cups pasta sauce and wine in a small saucepan; bring to a boil.
Spoon about 3/4 cup beef mixture into each pepper. Place peppers in a 2-quart baking dish coated with cooking spray; add wine mixture to pan. Cover with foil.
Bake at 450° for 20 minutes. Uncover; bake an additional 5 minutes or until lightly browned. Serve peppers with sauce. Garnish with pepper tops.
Yield: 4 servings (serving size: 1 stuffed pepper and 1/3 cup sauce)
Nutritional Information
Calories:347 (20% from fat)
Fat:7.9g (sat 3.9g,mono 2.6g,poly 0.7g)
Protein:26.6g
Carbohydrate:39.9g
Fiber:4.6g
Cholesterol:55mg
Iron:4.1mg
Sodium:747mg
Calcium:284mg
Enjoy :)
Oh, so yesterday I went with my husband and my friend Kelly to see Eclipse FINALLY! :) My thoughts? I liked it much better than the first two movies! I'm not a Twilight Saga addict my any means, but I will say I enjoy watching the movies. My friend Kelly loaned me the books, and so far I'm on Chapter 8 of Twilight hahahahaha. I have a long way to go! However, I do like the book much better than the movie so far, which I guess isn't suprising because I've heard this from A LOT of people.
Anywho, thought I'd share a picture from my iphone of me and hubs "in-line" last night. Yup, that's right! FIRST in line and no long wait. Whoooooooooo hooooooo! (We were excited!) ;)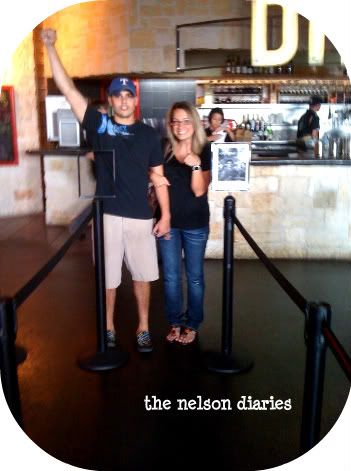 Happy Tuesday Loves!