Okay, Okay, since I'm new to "blogworld" I am really bad at wanting to post more than once a day. And since it's Friday...Why the heck not?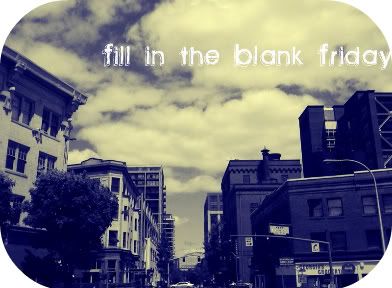 www.thelittlethingswedo.blogspot.com
1. My favorite thing about this week has been
today when I got to have lunch with my husband and friend from work. We got FREE "Frosties" from Wendy's and I got a new, cute, and CHEAP watch! Yummm & Yayyy! :)
2. The weather this week has been
hot, humid and rainy. The absolute worst.
3. The last (interesting) item I received in the mail was
an invite to a wedding from people we don't know. LOL?
4. The last movie I saw was
Sex in the City 2 in theatres, and When In Rome on Netflix!
5. If I could be doing anything I felt like today I would
be at home rennovating the house with hubs. I love it!
6. As a teenager I was
an over-achiever, and involved in everything-sports, counsils, clubs...You name it.
7. I wish I could trade lives for the day with
...Rachel McAdams. I adore her.
Okay, so I'm done for the day! Haha! :) Have a fantabulous weekend everyone!
Xoxo!