My weekend was great. Reallyyy great. Saturday we woke up and made the 3 hour drive to Houston, which by the way feels like forever. I love road trips with my husband. Together we ate a whole bag of Flips (I know, so bad for you right?) and sipped on Lemon-Lime gatorade (my favorite). We jammed to 90's music that takes you back to your Junior High days the entire way. And yes, my husband participates. He rocks the air microphone and compliments me on with my terrible out of tune vocals...So sweet.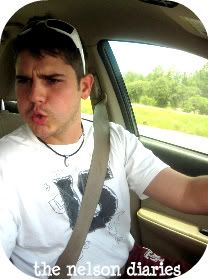 My goober :)
We arrived in Houston and met up at my cousin's fiancee's apartment. Let me tell you, four people and one bathroom...Enough said. But, we survived and made it to the wedding only 8 minutes late. ;)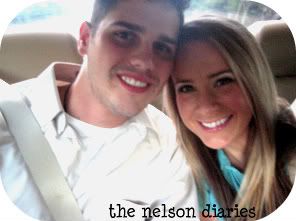 My friends Nathan and Rachel exchanged their vows in a beautiful Catholic ceremony. The church was huge and absolutely gorgeous. I couldn't stop staring at the architecture. Architecture fascinates me. The wedding was so sweet and I got to see a lot of familiar faces from college. It was really nice.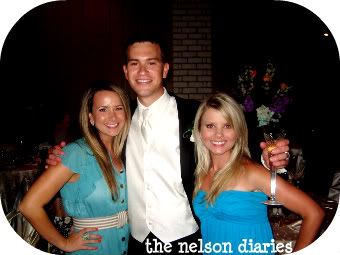 The reception was a lot of fun as well. White wine, steak (I cheated), and a baked potato...awwwww, heaven in my mouth. I really didn't need to eat red meat, but that's all they had. And hey, I had only had Flips all flippin' day okay? :) Don't worry though, it was a small portion. But, ohhhh so delicious.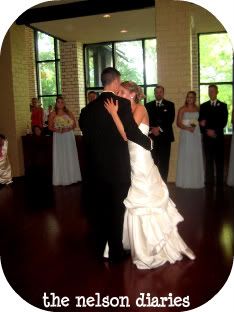 Beautiful Wedding. Beautiful Friends. Beautiful Day.
Sunday we drove back to our city. I love coming home. I don't know what it is about leaving town, but it is always so nice driving into your driveway, and opening your door to two dogs that are begging for your attention. I have one rule. If I know I will be out of town, I will make sure that my house is clean. I mean,
CLEAN.
No laundry, no dishes in the sink, bed made, pillows in place on the couches. There is nothing I hate more than coming home to a messy home. It is the best feeling. I can't explain it.
My Mom came in Sunday evening to visit. It's her vacation week, and I always love seeing her. She seems to think otherwise because I'm married now. Why do parents and friends think that because your "married" that you no longer want them in your life? Or, not have time for them? I always hear the, "I don't want to bother you" line. It's so silly. :) It was also my hubs and I's 4 year "being together" Anniversary. We went to dinner with my Mom, my brother, and his girlfriend. I was SO proud of myself too. Ever since I can remember I ALWAYS order beef enchiladas. Doesn't matter where we go, it's always beef enchiladas. Well, I did away with tradition and got a chicken taco salad. Not bad...
My brother and Dana (his gf) came over to our house for a few minutes to see our latest "rennovations" on the house. (I will soon post pictures)We then went to their house and met their newest addition..."Dren" Kitty. It's a Bengal, and soooo precious. Isn't she cute? I love her! We also finally got to cut and eat the top of our wedding cake. (GASP!) I know, we didn't actually eat it on our wedding anniversary, sadly. The cake was at my husbands parents house and we never were able to get the cake in time. But no worries, I know it will not "jinx" us. :) My husband got me back from our wedding day and thought it would be funny to shove the cake into my nose.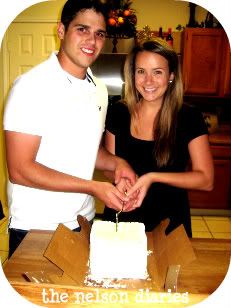 Monday. This is something you will rarely hear me say, but I loved Monday. Haha. Well, that is because I took the day off, of course. :) I took the day off to hang out with my Mom. That, and I needed a day off. Boyyyy did I. The only downside is that I didn't get to sleep in. My dogs won't allow it...poor Hubs tried to be so quiet and let them play outside while he was getting ready for work. They are always so rambunctious in the mornings...Actually, they are always rambunctious.
Mom and I got dressed and went shopping. Oh yes, shopping. I love Garden Ridge...cheap, and an abundant supply of everything. If you get me in that store, Hobby Lobby...or pretty much anything that can contribute to our house...good luck getting me out of there. I'm addicted.
O..M..G (not in a Valley girl way)...My older brother told me about this, and I finally did it. GO TO HABITAT FOR HUMANITY. He said if you go often, you will get lucky and stumble across
GOLD
homeowner heaven. Yeah, some of the things they have are gross. BUT if you get lucky...LIKE WE DID YESTERDAY, you will find GOLD :) Gold, meaning TILE for only .45 cents a tile. I could have peed my pants. We got some 18x18 tile for only $1.50 a tile. I called my husband and he met us there on his lunch break to put them in his truck. We currently re-did our half bathroom downstairs and our laundry room. They look great, however, the flooooooor. Ickkkkkkk. The floor takes away from the whole room. Whomever decided that reddish dark brown grout and white tile looked great is a B-L-I-N-D...Sorry. I'm so weird when it comes to trim, and I'm obsessed with that "clean"&"crisp" look. I love clean lines, and well, these floors and trim have GOT TO GO. And they will soon. I can't wait!
The rest of the afternoon was spent at my brothers and sister-in-laws house. I love going to visit them. My Mom, my sister-in-law, and I swam around, layed out, vegged out by the pool, and gossiped. It was just what I needed. My shoulders are red today though...Should have worn sun screen.
Please excuse my funky feet here...I'm in need of a pedicure! :)
Shoulda. Coulda. Woulda.
The night was followed by Chinese food and the Bachelorette.
Over all, just a lot of wonderful.